Two Just Stop Oil supporters have painted the headquarters of Policy Exchange, a conservative think-tank in Westminster. They are demanding that the UK government immediately halt all new licences and consents for new oil, gas and coal projects. [1]
The pair threw 5l of orange paint before daubing the building with their bare hands. Policy Exchange is an ExxonMobil-funded think-tank that has a strong influence over the policies of Rishi Sunak's government – which is responsible for criminalising protest, licensing fossil fuel extraction, and failing to create a transition to safe energy. Rishi Sunak worked at Policy Exchange before becoming an MP, and it had a major part in funding his campaign. [2]
Observing the action at the Policy Exchange this morning was acclaimed naturalist and 'Springwatch' presenter Chris Packham, who is filming a documentary on nonviolent direct action.
One of those taking action today was Ph.D. student Sean Irving, 24. He said:
"Policy Exchange has been named the most powerful think-tank in the United Kingdom, yet hardly anyone has heard of them. Rishi Sunak has proudly claimed that they are behind both recent authoritarian policies that have cracked down on protest in the UK and the small boats rhetoric that has demonised refugees seeking refuge in the United Kingdom."
"The giant hypocrisy is that the new oil and gas projects that the government has in the pipeline will cause migration like we've never seen before. I'm taking action with Just Stop Oil today to call on the UK government to listen to the United Nations, the International Energy Agency and thousands of scientists over an opaque think-tank funded by fossil fuel money. We must do better."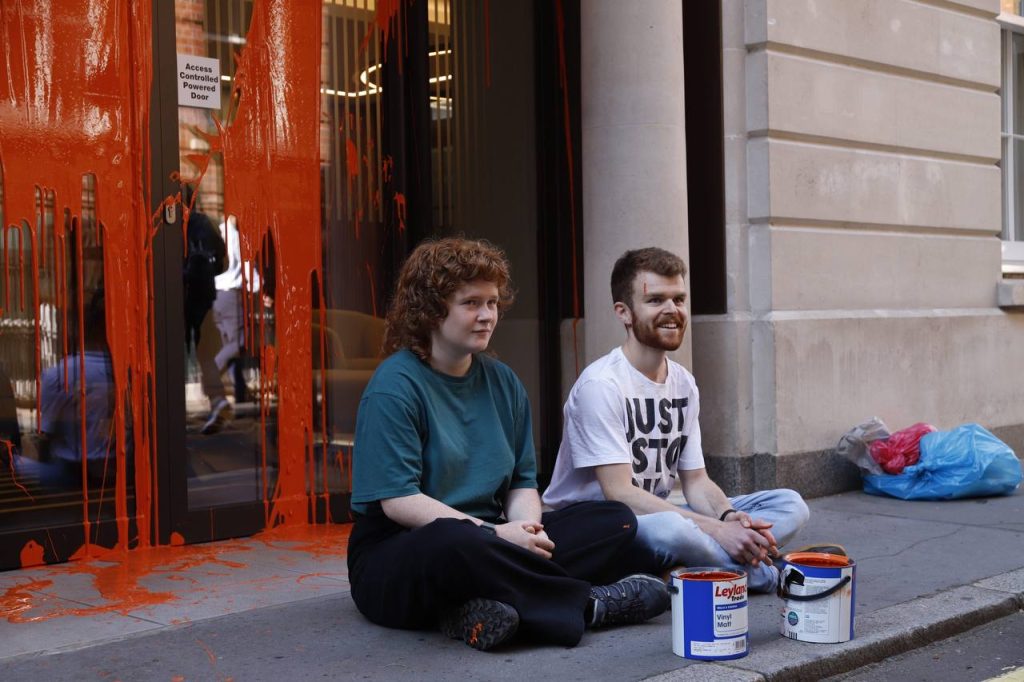 Policy Exchange was founded by Michael Gove and others in 2007, and since that time has raised millions of pounds in funding from shadowy groups such as the US-based 'National Philanthropic Trust', an infamous vehicle for corporate and oil interests wishing to channel funds into right-wing projects. Key supporters of Sunak's campaign to become the unelected PM were also Policy Exchange funders either individually or through family foundations. [3] [4]
Speaking at Policy Exchange's summer party on 28th June, Sunak boasted that the think-tank's work "helped us draft" the government's crackdown on protests. After receiving an infusion of cash from ExxonMobil in 2017, the institution published a report entitled 'Extremism Rebellion', calling for the police and the government to clamp down on climate protests. Sunak's comments give weight to the allegations that this report shaped the Police, Crime, Sentencing and Courts Act which came into power in 2022. This draconian bill has massively extended the criminalisation of protest – granting the police new powers to decide what constitutes a 'disruptive' protest and to more harshly punish nonviolent protesters. [5] [6]
Another taking action today was Ella Ward, 20, an Environmental Science student from Birmingham. They said:
"I am taking action with Just Stop Oil because I'm not going to stand by while my government continues with its genocidal and murderous plans to licence new coal, oil and gas. I'm 20 years old and I have so much to live for. Young people are being failed by the British government, and on behalf of young people globally, we deserve better. I am fed up of screaming into the void and being ignored whilst profit is prioritised over life. How many more people need to needlessly die before our government takes action?"
"We have painted the Policy Exchange because they have been instrumental in implementing laws to restrict climate protesters. The prime minister praised Policy Exchange for their draconian and anti-democratic lobbying. They criminalise peaceful protesters for exercising their right to march for a liveable future. Meanwhile, the criminals in Parliament and in board rooms are getting away with murder."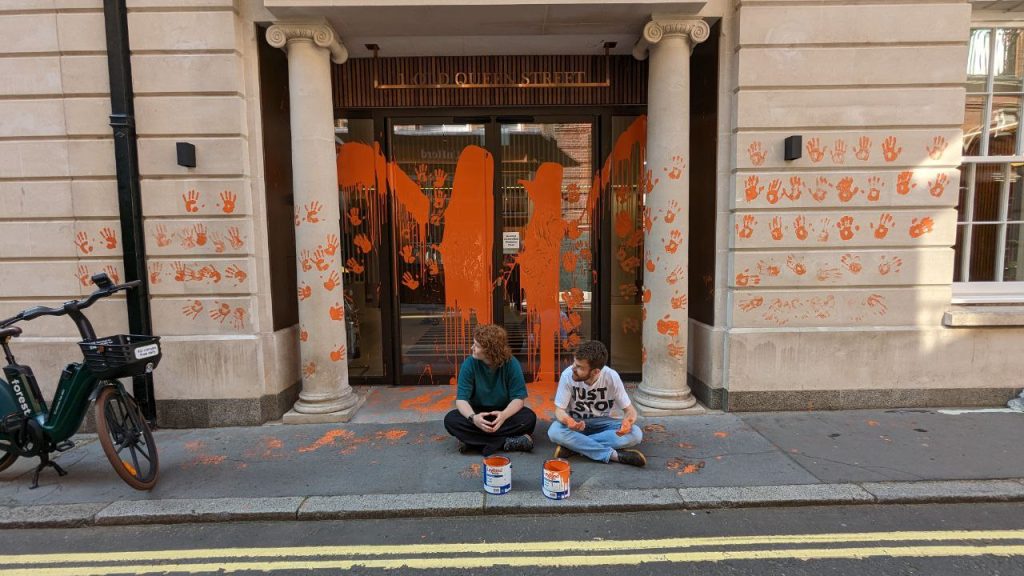 Since the Just Stop Oil campaign launched on 14th February 2022, there have been over 2,300 arrests and 138 people have spent time in prison, many without trial. Currently there are three Just Stop Oil supporters imprisoned for resisting new oil, gas and coal.
It's time to get off the sidelines and join in civil resistance to end new oil, gas and coal. We are inviting everyone to come and march with us every day in London from the 16th-23rd July. Sign up for action at juststopoil.org.
Just Stop Oil is gathering evidence and details of the crimes perpetrated by climate criminals. Fossil fuel executives, bankers, ministers, officials, and members of the legal and media professions who order, administrate, or facilitate the exploitation of new oil and gas resources or who conspire to prosecute those taking action to prevent the greatest act of mass murder in human history will be held responsible.
To those who wish to help gather evidence or discuss the issues arising in a safe online space please email [email protected]
ENDS
Press contact: 07762 987334
Press email: [email protected]
High quality images & video here:https://juststopoil.org/press-media
Website: https://juststopoil.org/
Facebook: https://www.facebook.com/JustStopOil/
Instagram: https://www.instagram.com/just.stopoil/
Twitter: https://twitter.com/JustStop_Oil
Youtube: https://juststopoil.org/youtube
Notes to Editors
[1] Just Stop Oil is a coalition of groups working together to demand that the government immediately halt all future licensing and consents for the exploration, development and production of fossil fuels in the UK. Just Stop Oil is a member of the A22 Network of civil resistance projects. Climate Emergency Fund is Just Stop Oil's primary funder for recruitment, training, and capacity building.
Just Stop Oil 'Blue Lights' policy: our policy is, and has always been, to move out of the way for emergency vehicles with siren sounding and 'blue lights' on.
[2] https://bylinetimes.com/2023/02/13/government-by-think-tank-the-return-of-policy-exchange/
[3] https://www.opendemocracy.net/en/dark-money-investigations/think-tanks-adam-smith-policy-exchange-legatum-iea-taxpayers-alliance-climate-denial/
[4] https://www.opendemocracy.net/en/dark-money-investigations/policing-bill-policy-exchange-exxonmobil-lobbying/
[5] https://www.desmog.com/2023/06/29/rishi-sunak-boasts-that-oil-funded-think-tank-helped-us-draft-crackdown-on-climate-protests/
[6] https://policyexchange.org.uk/wp-content/uploads/2019/07/Extremism-Rebellion.pdf