Can you give
an hours wage every month?
LETS FACE IT.
WE'RE OUT OF TIME.
There is no more road to kick the can down.
Many people already know this and want to give money to something that actually has an impact.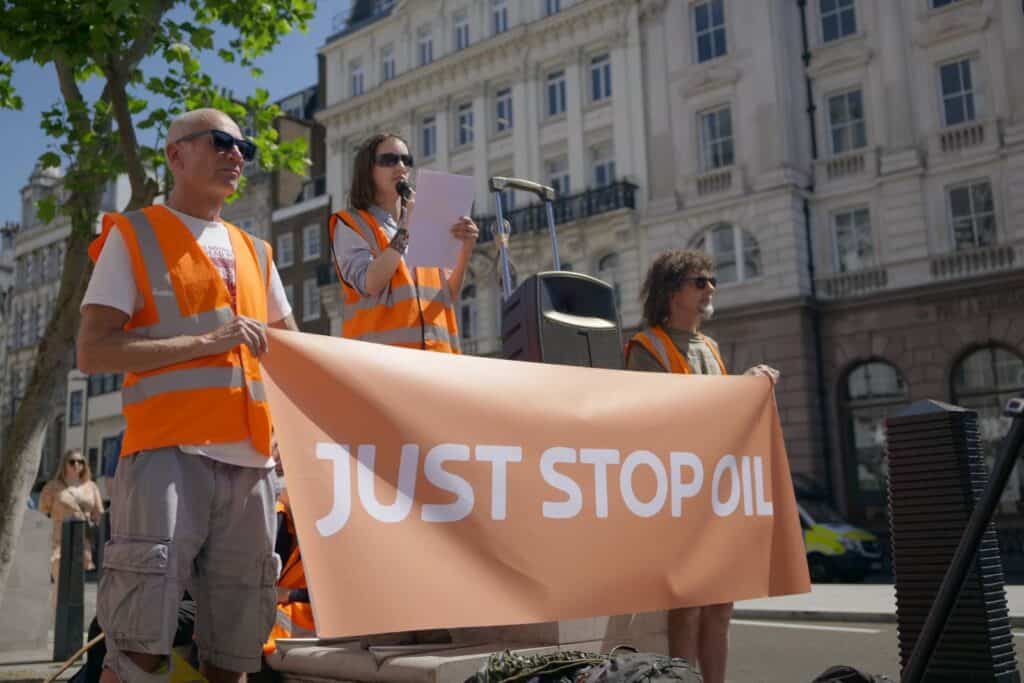 🌍⭐ Give a monthly amount ⭐🌍

So what does impact look like?
In

2019 Extinction Rebellion

brought 10,000 people onto London's streets for 10 days and made history. Before the Rebellion hardly anyone knew about the

climate emergency

, afterwards 70% of the British Public believed we face a crisis. Weeks later in May 2019, the UK parliament became the first country in the world to make a

Climate and Ecological emergency declaration

. NGOs admitted, that those two weeks of civil disobedience did more to communicate our

dire reality

than decades of conventional campaigning.

In 2021

Insulate Britain

became the biggest climate campaign of the year, the first to go from

zero to 80%

name recognition

in two weeks

. The first to block the M25 and other highways 17 times in 7 weeks. It's no brainer demand of insulating homes went from a non issue to a

top national talking point

on what to do to reduce emissions.

Then in 2022 Just Stop Oil

in a matter of weeks become the number one climate campaign of this year. For the first time

oil depots were blocked

upon and down the country. Over half of the oil distribution of the country was disrupted. Over 60% of the UK population now want no more new oil drilling.
All these projects, the three biggest climate campaigns of the last four years, were created by largely the same team of people who now run Just Stop Oil, using four key elements:
A clear central management structure to run the operation.

A set concrete and winnable aim.

A plan to engage in mass civil disobedience week after week.

A plan for mobilization of ordinary people through hundreds of public meetings.
We do not have the time to support projects that are not going to work. Campaigns against palm oil and such like are all well and good but let's keep our eye on the prize – we need to force our government to reduce emissions NOW and work with similar projects around the world.
With three years left there is only one game in town to save all we love – civil resistance "
- Roger Hallam, Co-founder of XR, Insulate Britain, Just Stop Oil.
To succeed we need to financially support hundreds of mainly young people, working full time and as volunteers, to recruit the 1000s we need in the streets this Autumn. To suppor all the future campaigns through the next all important three years.
So far £500,000 has been raised and we need to raise another £1 million.
Give what you earn in an hour once a month.
This is your contribution to a collective effort, to get real results.​
Recommended article for reading: