Just Stop Oil supporters have been slow-marching in Central London today. They are demanding that the government halts all new licences and consents for oil, gas and coal projects in the UK. [1]
At 8:00am, around 71 Just Stop Oil Supporters in eight groups began marching in Southwark, Lambeth, and the City of London. A group of four marching on Tower Bridge were issued a Public Order Act (Section 12) notice and were off the road by 8:15. A group of six doctors, surgeons and GPs were issued an illegal Section 12 notice and forced off the road by 8:30. Two other mini-marches in Clapham and Tower Hamlets were off the road by 8:40. All other marches were off the road by 9am. Two marches, including the doctors 'mini march', were issued illegal Section 12 notices for the whole of London, despite the law stating that a Section 12 notice must be applied to a defined area for a defined time period.
Further marches continued at 10am, including a 'mums-march' of 25 mothers, during which three mums were arrested for breach of a Section 12 notice. All marches were off the road by midday, however At 1:15pm, a group of around 15 mums began marching around Hamleys toy store holding signs such as 'give our kids hope' and 'scared for my son'. The 'mums-march' was removed by security by 1:40pm.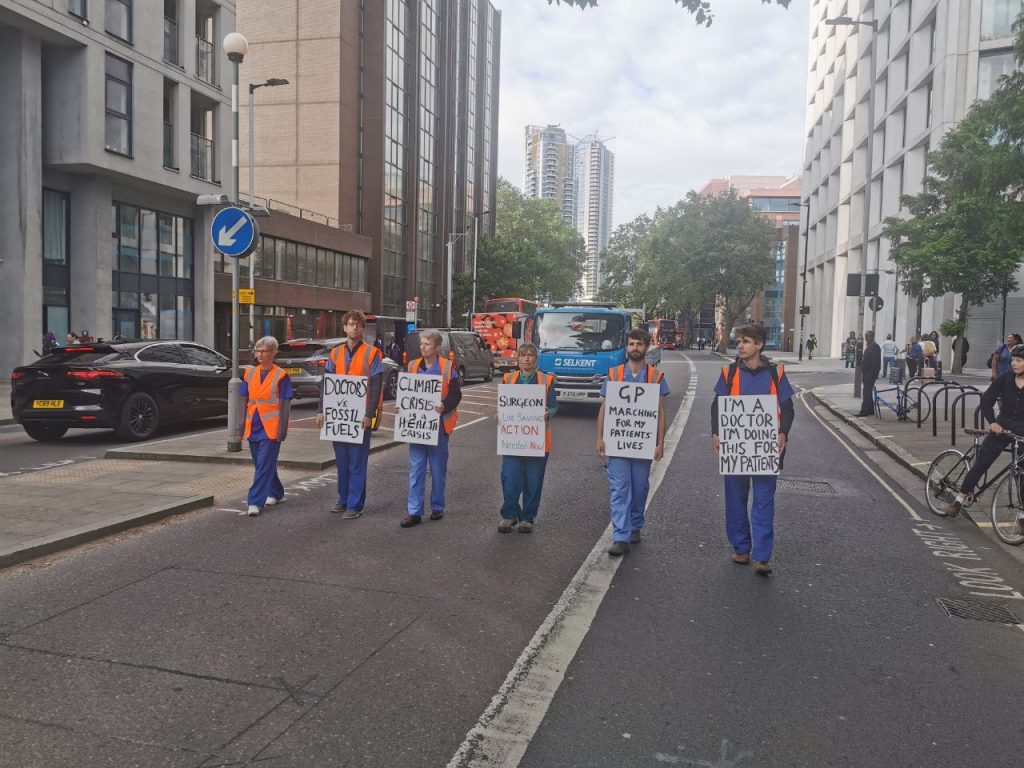 Angela Holland, 79, a grandmother of five, from Bristol, was one of those in the road today. She said:
"Today at 1.2 degrees of global heating, the impacts of climate breakdown are everywhere and are becoming harder to ignore. We're on course for my children to see nearly three degrees of heating in their lifetimes, and the implications of that are terrifying!"
"Large parts of the world made uninhabitable, wet-bulb temperatures where high heat and humidity cause thousands to just drop dead, runaway feedback loops that bring about irreversible collapse, are just a few. Yet the UK government is still issuing licences for new oil and gas. Resisting this is the most important thing I can do."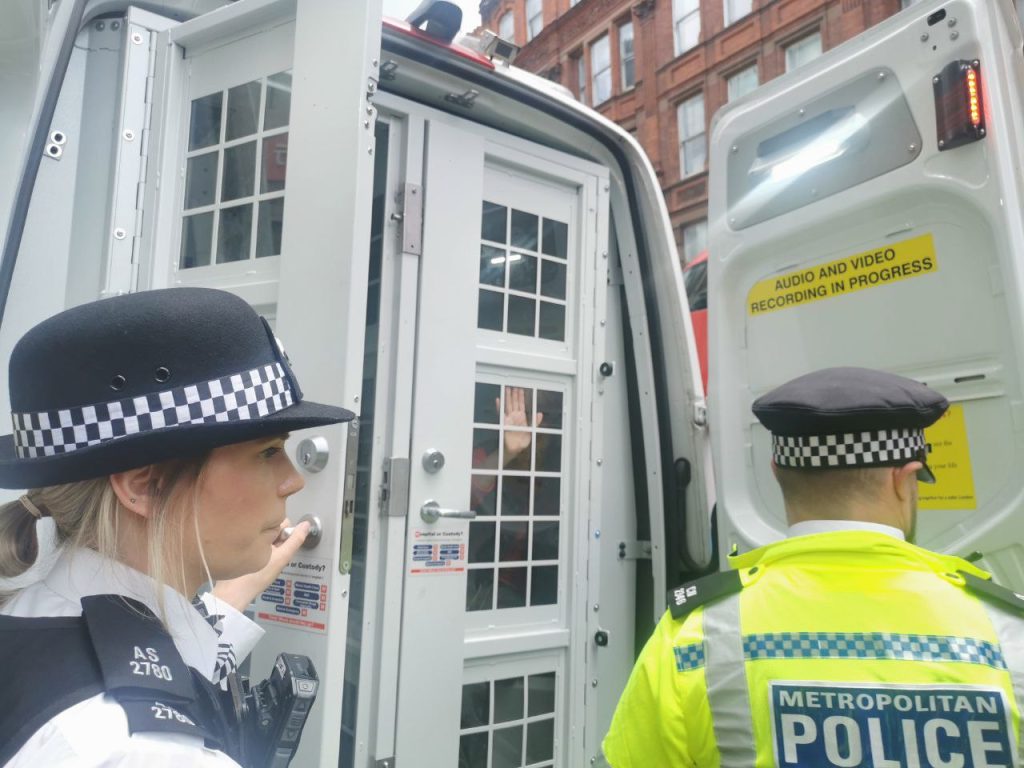 The marches today come as scientists announced that the searing heat of last summer killed 61,000 people across Europe. Public health experts looked at the unusually high death rates and used epidemiological models to work out how many deaths could be traced back to high temperatures. They found 61,672 people died of heat-related causes in Europe between 30 May and 4 September 2022. [2][3]
Another of those in the road today was Darcy Mitchell, 48, a mother from Totnes. She said:
"I'm a parent, so I have to be here. This crisis has killed hundreds of thousands of children, and it's getting worse in front of our eyes. I won't let our government prioritise donations from fossil fuel interests over human lives. That's my responsibility as a parent. My children know I will protect them."
Just Stop Oil supporters have completed up to seven marches a day, six days a week since the 24th April. Over 800 ordinary people from all over the UK have taken part. Including arrests at the Coronation and cultural and sporting events there have been around 238 arrests this year.
Since the Just Stop Oil campaign launched on 14th February 2022, there have been over 2,200 arrests and 138 people have spent time in prison, many without trial. Just Stop Oil supporters Morgan Trowland and Marcus Decker are serving three-year prison sentences for resisting new oil, gas and coal in the longest sentences for peaceful climate action in British history.
It's time to pick a side and join in civil resistance to end new oil, gas and coal. We are inviting everyone to come and march with us every day in London from the 16th-23rd July. Sign up for action at juststopoil.org.
ENDS
Press contact: 07762 987334
Press email: [email protected]
High quality images & video here:https://juststopoil.org/press-media
Website: https://juststopoil.org/
Facebook: https://www.facebook.com/JustStopOil/
Instagram: https://www.instagram.com/just.stopoil/
Twitter: https://twitter.com/JustStop_Oil
Youtube: https://juststopoil.org/youtube
Notes to Editors
[1] Just Stop Oil is a coalition of groups working together to demand that the government immediately halt all future licensing and consents for the exploration, development and production of fossil fuels in the UK. Just Stop Oil is a member of the A22 Network of civil resistance projects. Climate Emergency Fund is Just Stop Oil's primary funder for recruitment, training, and capacity building.
Just Stop Oil 'Blue Lights' policy: our policy is, and has always been, to move out of the way for emergency vehicles with siren sounding and 'blue lights' on.
[2] https://www.theguardian.com/environment/2023/jul/10/heatwave-last-summer-killed-61000-people-in-europe-research-finds