A town councillor for Bridgwater, who was suspended from the Labour party for taking action with Just Stop Oil, has now quit the party. [1]   
Richard Morgan, a renewable energy engineer, has been arrested twice with Just Stop Oil. The first at Kingsbury oil terminal in September 2022, the second a month later in central London – both for peacefully sitting in the road. His suspension came after the arrests were brought to the attention of government minister Grant Shapps by a Conservative councillor in Bridgwater.
Richard's actions at the time – and since – have drawn praise from fellow Somerset Labour councillors. He received no push-back from Labour until June, when Grant Shapps wrote an article in The Daily Mail calling for his suspension. In the piece, Shapps made accusations about Just Stop Oil's influence on the Labour Party, whilst failing to mention the scientific consensus calling for an end to new fossil extraction, or the £3.5m the Conservatives received last year from fossil fuel lobbyists and high polluting industries. [2]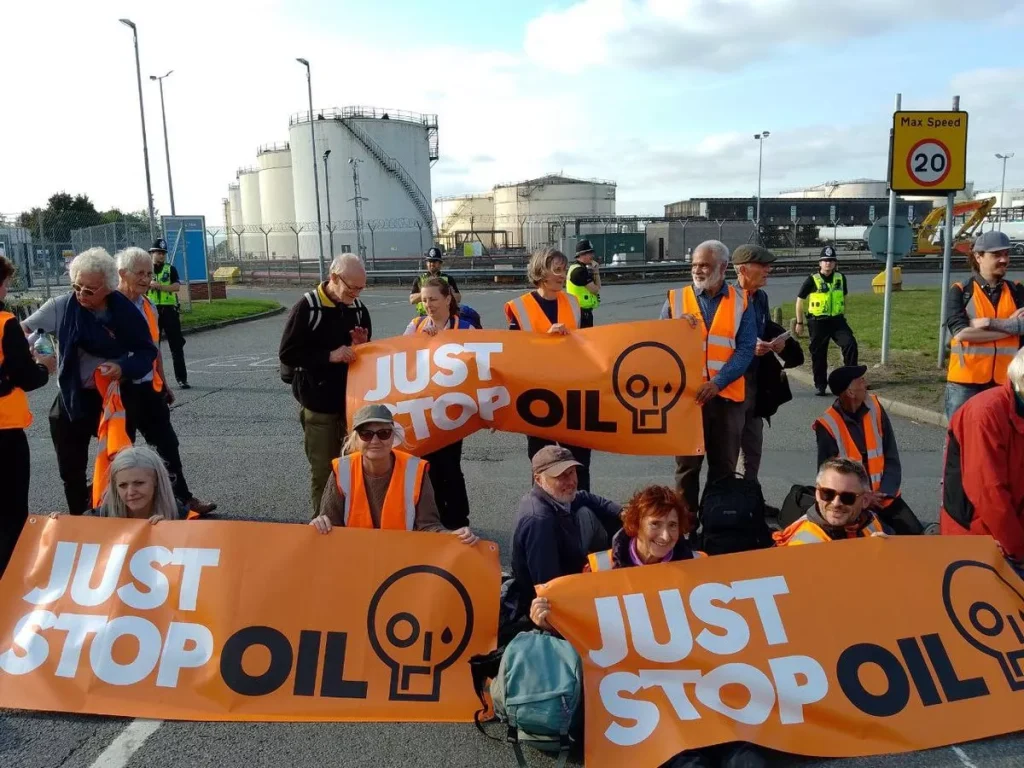 Of his decision to quit the Labour party, Cllr Morgan said in a statement:
"I'm sad to leave the Labour Party but the current leadership is clearly seeking to expunge those on the left, and it's not a good place for any socialist at the moment. The treatment of my Constituency Labour Party has been appalling and I don't trust Keir Starmer to honour his pledge of no new oil, gas, and coal."
"I have no intention of stopping my actions with Just Stop Oil, so – unless Labour U-turn on their support for peaceful protests – it's likely I would have been on permanent suspension from the party."
"This week, Rachel Reeves called Just Stop Oil "pathetic", which shows just how far away from its civil-resistance roots Labour has strayed. This issue should not be used as a political football. It's life and death – and we're rapidly running out of time to save ourselves."
"I took action for those I love and for all life on earth, because the future looks terrifying. Licencing new oil and gas in 2023 is an act of genocide and Labour could – and should – be calling this out. Not bowing to pressure from the fossil fuel zealots intent on destroying our country and our lives."
Morgan was remanded in HMP Pentonville in September after peacefully sitting in the road, blocking an oil terminal and was sentenced to 23 days' imprisonment, suspended for a two-year period. Last week, in a trial at Stratford Magistrates court he was ordered to pay £336 costs for his October protest and given a conditional discharge of six months.
Since he has not breached the Councillor's Code of Conduct, he currently remains seated as an Independent. Two weeks ago, Cllr Brian Smedley, the Leader of Bridgwater Town Council wrote in the Bridgwater Mercury: "we in Bridgwater Labour Party firmly defend people's right to peaceful protest and would point out that the climate crisis is real and happening and that the Daily Mail is not on the side of ordinary working people and never will be."
With Keir Starmer under continuing pressure for comments that he would honour new gas and oil licences issued before his election, the Labour Party remains split over an issue that the voting public and scientists are clear on. Polls have shown that climate policy will influence 54% of voters, and scientists are unequivocal that new oil and gas is untenable.
This week, shadow chancellor, Rachel Reeves called Just Stop Oil "tedious", while on the same day Clive Lewis, Labour MP for Norwich South tweeted in support of civil resistance, saying he'll take "nuisance over the alternative" of climate breakdown any day.
A spokesperson from Just Stop Oil commented:
"What we find tedious is the Labour Party's total lack of a spine in facing up to the oil industry who seek to profit from the wholesale destruction of life as we know it."
"Putting more carbon into the atmosphere in 2023 – and the years to come – in the quantities planned is nothing short of evil. It will bring about mass crop failure, drought, and starvation on an unimaginable scale. It will trigger the total collapse of our civilization, end the lives of countless millions of people – and shorten the lifespan of our children."
"Richard Morgan has been forced from the Labour Party for peacefully trying to protect our fundamental right to life. When we stand on the precipice of irreversible global heating and the loss of everything we love, he should be applauded not attacked."
"What's become clear in the last few weeks is that Just Stop Oil is the only real opposition because we are the only people acting like we are in an emergency."
"New gas and oil is an act of genocide and we call upon every last person who cares about their families to pick a side: life or death – and join us in civil resistance before it's too late. The next five years will be the most important in human history."
It's time to pick a side and join in civil resistance to end new oil, gas and coal. We are inviting everyone to come and march with us every day in London from the 16th-23rd July. Sign up for action at juststopoil.org.
ENDS
Press contact: 07762 987334
Press email: [email protected]
High quality images & video here:https://juststopoil.org/press-media
Website: https://juststopoil.org/
Facebook: https://www.facebook.com/JustStopOil/
Instagram: https://www.instagram.com/just.stopoil/
Twitter: https://twitter.com/JustStop_Oil
Youtube: https://juststopoil.org/youtube
Notes to Editors
[1] Just Stop Oil is a coalition of groups working together to demand that the government immediately halt all future licensing and consents for the exploration, development and production of fossil fuels in the UK. Just Stop Oil is a member of the A22 Network of civil resistance projects. Climate Emergency Fund is Just Stop Oil's primary funder for recruitment, training, and capacity building.
Just Stop Oil 'Blue Lights' policy: our policy is, and has always been, to move out of the way for emergency vehicles with siren sounding and 'blue lights' on.[3] https://twitter.com/BBCPolitics/status/1678004325098962945
[2] https://www.desmog.com/2023/03/30/conservatives-received-3-5-million-from-polluters-fossil-fuel-interests-and-climate-deniers-in-2022/