A Just Stop Oil supporter has disrupted his graduation ceremony at the University of Exeter as a call for students to take action against the UK Government's plans to licence new oil and gas projects. [1]
At 1:15pm, Eddie Whittingham, 25, was tackled by security as he sprayed a university courtyard orange with a paint-loaded fire extinguisher, while his graduating cohort looked on. Shortly beforehand he had received his BA in Philosophy, Politics, and Economics. He was arrested at the scene.
Eddie is known for high-profile Just Stop Oil actions, including the interruption of the World Snooker Championship in April 2023, where he climbed a snooker table at The Crucible Theatre and released orange-coloured powder.
Speaking before his action today, he said:
"My name's Eddie, I'm 25 years old and I'm about to disrupt my own graduation ceremony. Exactly 3 months ago, I disrupted the snooker world championship. I'm taking these actions because our government has failed young people like me."
"They have failed to cut greenhouse gas emissions in line with science. They have failed to prepare us for the inevitable disruption that they have caused. They're driving our society towards collapse by continuing to allow new oil, gas and coal. This is a violation of the advice of the International Energy Agency, the United Nations and thousands and thousands of climate scientists all around the world, who have been warning us for years: new fossil fuels means death."
"As a result, 1 billion people may be displaced from their homes by 2030. That's 7 years away. We face a future of mass-starvation and unimaginable suffering, including here in the UK. And all of this is happening so a small handful of extremely rich people can carry on getting even richer."
"Universities, rather than preparing young people for this inevitable disruption, are instead upholding a status quo that is going to kill millions, if not billions of people. That's why I'm calling on students everywhere to join us in resistance against this criminal government."
"What use is a university degree if you can't feed yourself? What use is an "education" if society is collapsing around you? Each one of us has a choice: die quietly or get into resistance. It's now or never."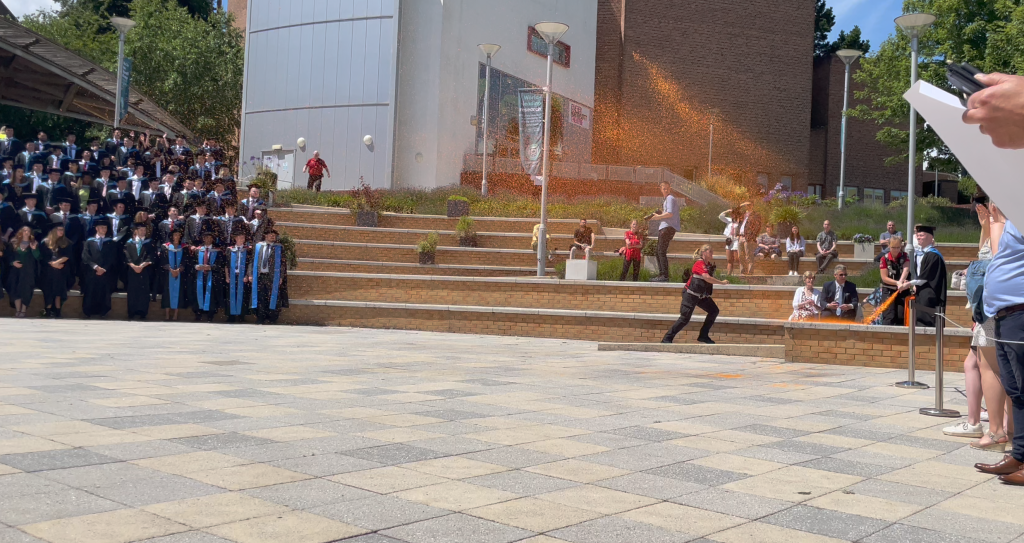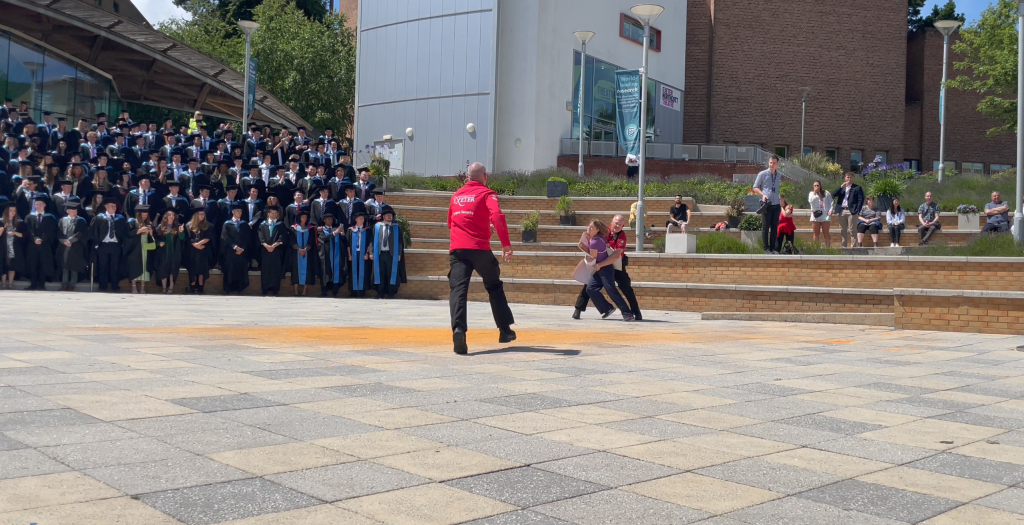 Also arrested was Kostja Junglas, 27, a PhD student at Oxford University. They were tackled by University of Exeter security for attempting to hold up a banner to the crowd of graduates.
In 2022, the University of Exeter began a new partnership with Shell Oil, building on decades of collaboration between the university and the company. The stated aim of the project is 'Carbon Sequestration', a speculative technology that would allow Shell to continue producing fossil fuels whilst reducing their carbon emissions. However, experts that don't stand to gain from Shell profits have declared carbon sequestration unviable: "Many international bodies and national government are relying on carbon capture in the fossil fuel sector to get to net zero, and it simply won't work," according to Bruce Robertson, the author of an Institute for Energy Economics and Financial Analysis report on the topic. Students are campaigning for the university to cut ties with Shell under the name 'Shell Out'. [2] [3]
The first week of July 2023 is believed to have been the hottest in the history of humanity, according to the European Union's Copernicus Climate Change Service. The highest temperature in recorded history has been set repeatedly in the last few weeks, and this pattern is expected to continue. "We are in uncharted territory and we can expect more records to fall as El Niño develops further and these impacts will extend into 2024," said Christopher Hewitt, World Meteorological Organisation director of climate services, adding "This is worrying news." The impacts of this climate crisis are already devastating, and will only multiply in the short term. [4]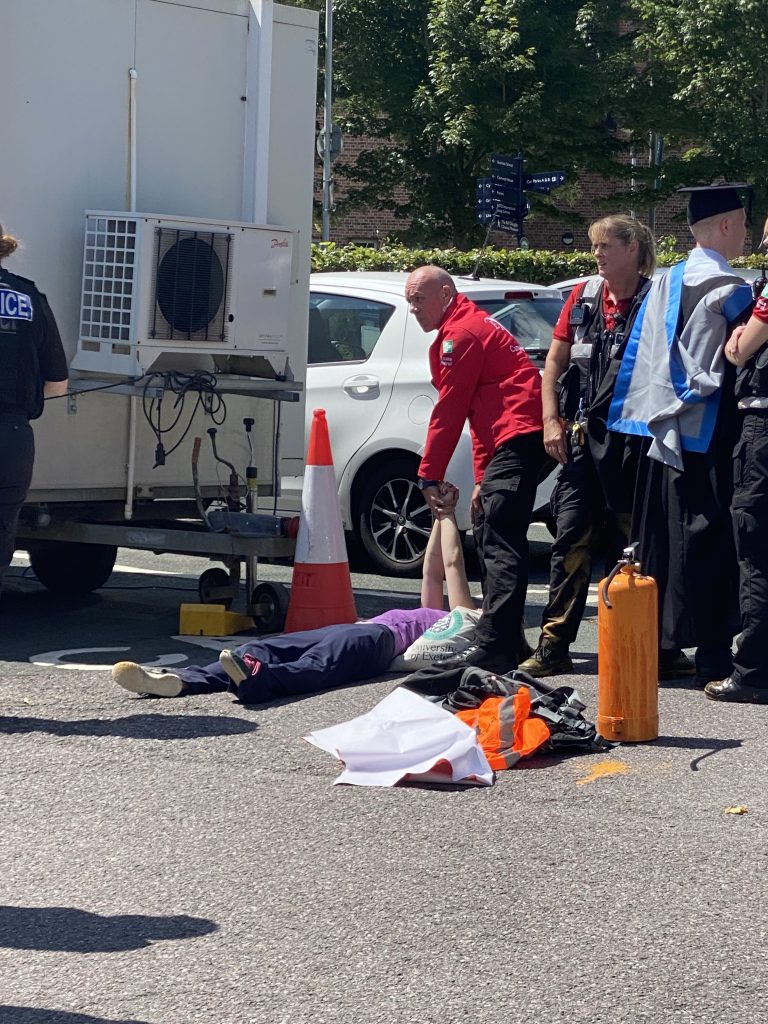 Since the Just Stop Oil campaign launched on 14th February 2022, there have been 2,200 arrests and 138 people have spent time in prison, many without trial. Just Stop Oil supporters Morgan Trowland and Marcus Decker are serving three year prison sentences for resisting new oil, gas and coal.
Just Stop Oil is calling on everyone to get off the sidelines and join in civil resistance against new oil, gas and coal.
The time is now. Join us and slow march while you still can. Our indefinite campaign of civil resistance is underway and will not end until our government makes a meaningful statement halting new fossil fuel projects in the UK.
We need to resist new, oil gas and coal. Join our Students in Action. Find out how:
Sign up, and join a Zoom call on Thursday 20th July at 6pm- juststopoil.org/students
ENDS
Press contact: 07762 987334
Press email: [email protected]
High quality images & video here:https://juststopoil.org/press-media
Website: https://juststopoil.org/
Facebook: https://www.facebook.com/JustStopOil/
Instagram: https://www.instagram.com/just.stopoil/
Twitter: https://twitter.com/JustStop_Oil
Youtube: https://juststopoil.org/youtube
Notes to Editors
[1] Just Stop Oil is a coalition of groups working together to demand that the government immediately halt all future licensing and consents for the exploration, development and production of fossil fuels in the UK. Just Stop Oil is a member of the A22 Network of civil resistance projects. Climate Emergency Fund is Just Stop Oil's primary funder for recruitment, training, and capacity building.
Just Stop Oil 'Blue Lights' policy: our policy is, and has always been, to move out of the way for emergency vehicles with siren sounding and 'blue lights' on.
[2] https://www.theguardian.com/environment/2022/sep/01/carbon-capture-is-not-a-solution-to-net-zero-emissions-plans-report-says
[3] https://exepose.com/2023/01/27/shocking-and-distasteful-students-raise-greenwashing-concerns-about-universitys-partnership-with-shell/
[4] https://public.wmo.int/en/media/news/preliminary-data-shows-hottest-week-record-unprecedented-sea-surface-temperatures-and