Two Just Stop Oil supporters have painted the Department for Energy Security and Net Zero. They are demanding that the UK government immediately halt all new licences and consents for new oil, gas and coal projects. [1]
At 7:30am two Just Stop Oil supporters spray-painted the department responsible for licensing over 100 new licences for oil gas and coal exploration in the UK, with orange paint from a fire extinguisher, then sat down to await arrest.
A Just Stop Oil spokesperson said:
"The people in this department are making decisions that will bring about the wholesale destruction of human civilisation. They are threatening the lives of all of us. The young people of today will look back in horror at the crimes of this government and will demand justice. In signing-off new oil, gas and coal projects, this department signs the death warrants of hundreds of millions of people. In the climate trials of the future, they will be held to account for the crime of genocide, it is not a matter of 'if', but 'when'."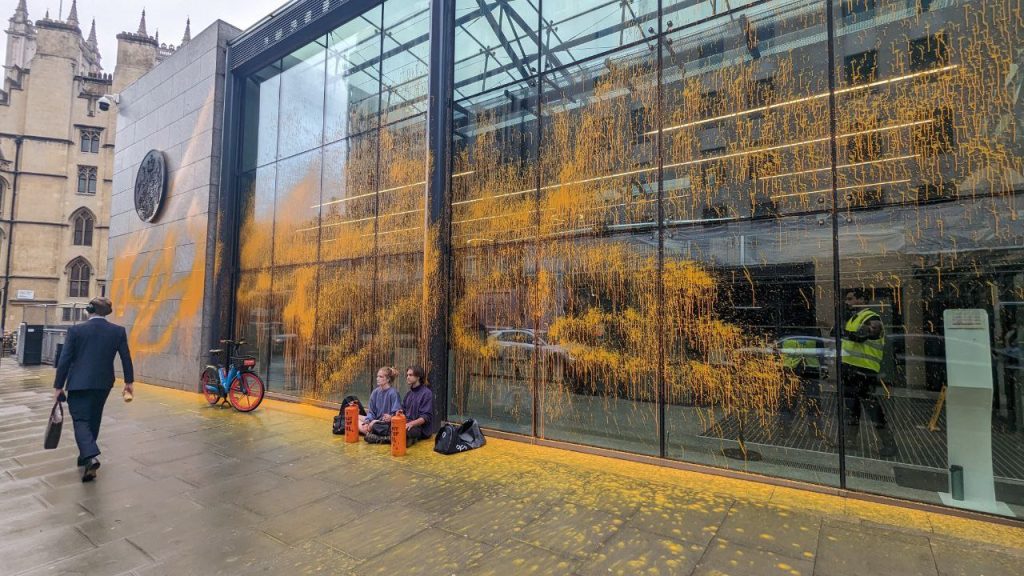 One of those taking action this morning, Matthew Cunningham, 25, a food producer from Suffolk, said:
"I want to see a world in which there is good food for everyone, this is why I love my work. But if this government continues to ignore the facts, and forces through new oil and gas developments, then no matter how hard I work I will never get to see this future."
"We know that putting more carbon in the atmosphere is causing crop failures and threatening the fragile global food system. The UK is not immune, every grower we know has been troubled by drought this summer. I will not let famine be part of the future of my newborn nephew. I will not give up."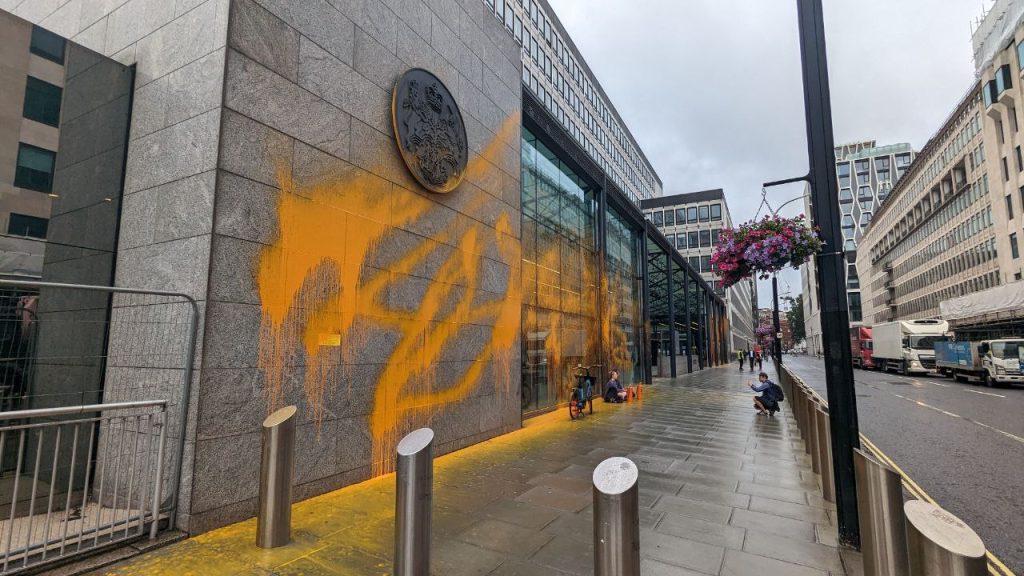 Another of those taking action, Imogen May, 24, from Suffolk, who also works in food production, said:
"I'm taking action with Just Stop Oil because I feel like we're living in a sort of dystopian nightmare. Three continents are under severe heat alerts right now. A billion people could be forced out of the conditions suitable for supporting human life by 2030. An area the size of Portugal has burned down in Canada. Yet our government's response to that is to make the problem many times worse by licensing new oil, gas and coal?.. It's total madness!"
Today, Just Stop Oil will be making an announcement in Parliament Square at 11am.
Since the Just Stop Oil campaign launched on 14th February 2022, there have been over 2,300 arrests and 138 people have spent time in prison, many without trial. Currently there are three Just Stop Oil supporters imprisoned for resisting new oil, gas and coal.
It's time to get off the sidelines and join in civil resistance to end new oil, gas and coal. We are inviting everyone to come and march with us every day in London from the 16th-23rd July. Sign up for action at juststopoil.org.
ENDS
Press contact: 07762 987334
Press email: [email protected]
High quality images & video here:https://juststopoil.org/press-media
Website: https://juststopoil.org/
Facebook: https://www.facebook.com/JustStopOil/
Instagram: https://www.instagram.com/just.stopoil/
Twitter: https://twitter.com/JustStop_Oil
Youtube: https://juststopoil.org/youtube
Notes to Editors
[1] Just Stop Oil is a coalition of groups working together to demand that the government immediately halt all future licensing and consents for the exploration, development and production of fossil fuels in the UK. Just Stop Oil is a member of the A22 Network of civil resistance projects. Climate Emergency Fund is Just Stop Oil's primary funder for recruitment, training, and capacity building.
Just Stop Oil 'Blue Lights' policy: our policy is, and has always been, to move out of the way for emergency vehicles with siren sounding and 'blue lights' on.