Just Stop Oil supporters are disrupting roads in central London during their thirteenth week of continuous resistance against new oil, gas and coal. [1]
Throughout the morning, starting from 8am, around 160 supporters in 24 groups have been marching on key roads in London. They caused disruption in Victoria, Vauxhall, Charing Cross, Marylebone, Holborn, Bow, and Westminster. The marches elicited a range of reactions from the public, with support from well wishers as well as hostility from some pedestrians and drivers.
At 8:20am, on the opposite side of Cromwell Road to the march, a driver crashed their Mercedes into another vehicle. The driver of the Mercedes then proceeded to cross the road to assault one of the Just Stop Oil supporters, throwing him to the ground and punching and kicking him in the head.
Speaking after he was assaulted, Daniel Knorr, 21, a student from Oxford, who gained notoriety after being carried off the pitch at Lords by Johnny Bairstow, said:
"I haven't said anything to the police and I don't plan to, but I'm afraid that the police might go after this man. I feel no ill sentiment or ill will against him. It's a difficult situation for anyone to be in and it's bound to create frustration. I can tell with the fact that he'd just been in a car accident, he was very stressed.
Really, if the police spent more time going after the people at the top who got us in this mess- the people in government and at the top of these fossil fuel companies who are destroying the lives of future generations, as well as the media moguls who create this toxic media space, to keep us divided; instead of going after people like this man, I'd be much happier. Then marching in the road wouldn't even be necessary."
At 9am the leader of Reform UK, Talk TV host and science-denier, Richard Tice, was seen arguing with police on Vauxhall Bridge.
Starting at 10:35am, four groups of supporters began slow marching around Parliament Square, with up to 60 people in each march starting in 15-minute intervals. Police quickly issued Section 12 orders to each march as they started, and immediately proceeded with illegal arrests. At least 35 were arrested.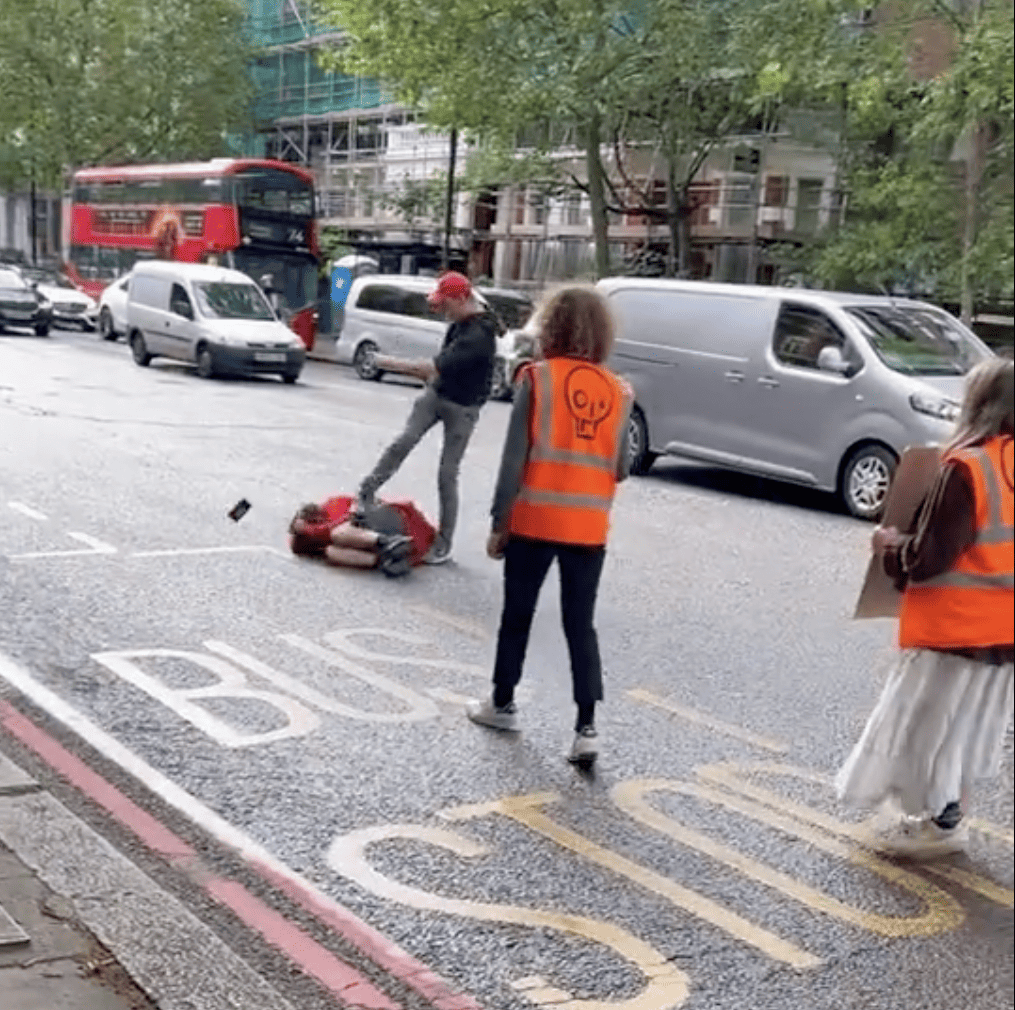 Mitch Rose, 57 a mother of two from Derbyshire, said:
"Let's be very clear, this is a catastrophe of unimaginable human suffering, unfolding right now. What we're seeing across Europe, the USA and Asia is just the start. And there are people in power who are guilty of crimes against humanity for their failure to act to protect the citizens of their country. The UK government, namely Rishi Sunak and Grant Shapps, know that by continuing to subsidise and support new oil and gas, they are causing the deaths of millions."
"My family in Barbados are on the front line, as water levels rise and small island nations disappear. It breaks my heart that my family will face catastrophic storms and hurricanes and destruction of their homes, livelihoods and perhaps even lose their lives. Or they could end up as climate refugees… and we know how that ends for people with dark coloured skin."
At the same time as the marches this morning, skyrocketing temperatures have been triggering natural disasters internationally. Wildfires in Greece are said to be causing widespread panic and destruction, while key cotton crops in China are at risk of failing due to unseasonal heat. Health warnings have been issued across Europe and the United States, and in Canada a child has died from effects of the wildfire smoke that is polluting the country. [2] [3] [4]
The Daily Mirror described the devastating heatwave in southern Europe as the "terrifying reality of today's climate crisis". Temperatures in Greece are expected to exceed a record-breaking high of 43 degrees on Sunday – the same record that was set in Rome yesterday. [5] [6]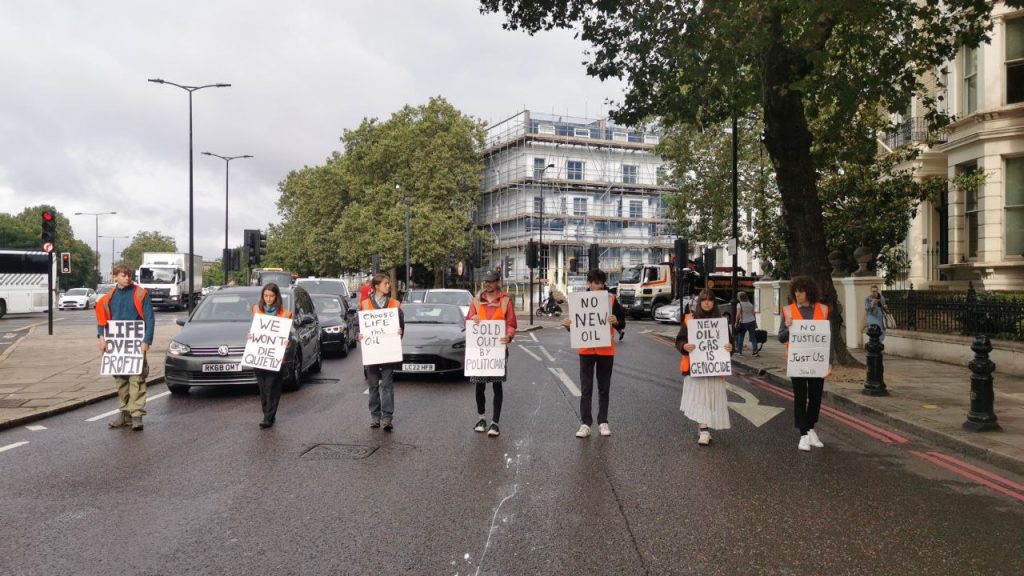 George Simonson, 23, a Mechanical Engineering Graduate from London said:
"Having studied engineering, I know that we already have all the technological solutions needed to transition away from oil and gas. We just lack the political will. That's why I'm marching today. If we don't step up, the government will continue licensing more fossil fuel extraction, sending millions to a painful death via drought, famine and slaughter."
"We have to challenge this, that's why I'm on the road today. We have a responsibility to resist as this government continues with its genocidal policies. Just Stop Oil will be taking the action to University campuses from October, because our institutions are absolutely complicit in this genocide. I'm asking all young people in the UK to step up because new oil and gas is a death sentence for those on the front lines of the climate crisis in places like Uganda, Tanzania, Bangladesh and Pakistan."
Just Stop Oil will be making an announcement in Parliament Square at 11am this morning. Today at 7:30am supporters of the group spray-painted the department responsible for licensing over 100 new licences for oil gas and coal exploration in the UK- the Department for Energy Security and Net Zero. The supporters used a fire extinguisher to cover the department's headquarters in orange paint.
Since the Just Stop Oil campaign launched on 14th February 2022, there have been over 2,200 arrests and 138 people have spent time in prison, many without trial. Just Stop Oil supporters Morgan Trowland and Marcus Decker are serving three-year prison sentences for resisting new oil, gas and coal in the longest sentences for peaceful climate action in British history.
It's time to get off the sidelines and join in civil resistance to end new oil, gas and coal. We are inviting everyone to come and march with us every day in London from the 16th-23rd July. Sign up for action at juststopoil.org.
ENDS
Press contact: 07762 987334
Press email: [email protected]
High quality images & video here:https://juststopoil.org/press-media
Website: https://juststopoil.org/
Facebook: https://www.facebook.com/JustStopOil/
Instagram: https://www.instagram.com/just.stopoil/
Twitter: https://twitter.com/JustStop_Oil
Youtube: https://juststopoil.org/youtube
Notes to Editors
[1] Just Stop Oil is a coalition of groups working together to demand that the government immediately halt all future licensing and consents for the exploration, development and production of fossil fuels in the UK. Just Stop Oil is a member of the A22 Network of civil resistance projects. Climate Emergency Fund is Just Stop Oil's primary funder for recruitment, training, and capacity building.
Just Stop Oil 'Blue Lights' policy: our policy is, and has always been, to move out of the way for emergency vehicles with siren sounding and 'blue lights' on.
[2] https://news.sky.com/story/weather-global-heatwaves-latest-uk-europe-italy-us-china-south-korea-live-updates-12920226
[3] https://www.theguardian.com/environment/live/2023/jul/17/europe-heatwave-2023-us-asia-heat-extreme-severe-weather-fires-flash-floods-flooding-record-breaking-heat-wave-stress-temperature-red-alert-climate-crisis
[4] edition.cnn.com/2023/07/18/americas/canada-wildfires-boy-dies-asthma-attack/index.html
[5] https://www.bbc.co.uk/news/world-us-canada-66229511