More than 250 to replicate her action on Monday as civil society, legal and mental health professionals rally round

Public and civil society to defy Solicitor General's attempt to deter sign holding outside court
If Michael Tomlinson KC, the Solicitor General, hoped that prosecuting Trudi Warner, a 68 year old retired social worker from Walthamstow, East London would deter others from doing the same thing, it's not going to plan for him.
On Monday, 25 September, a matter of days after the announcement of his decision to apply for the committal to prison of Ms Warner, for holding up a sign, more than 250 members of the public are replicating her action outside criminal courts around the country (including in London, Bristol and Manchester) as part of the growing public campaign, Defend Our Juries. Meanwhile many others, including the Climate Psychology Alliance and a Professor of Law have spoken out.
One of those risking prison by holding a sign on Monday, Dr Abi Perrin, a scientist, said:
"In 2023 telling the truth is being treated as a criminal act, with people prosecuted for displaying facts in public, and imprisoned for explaining their motivations in their own defence in a court of law. I am deeply afraid of a world where truth, science and morality are not important, or where we are not free to fight for them."
Three generations of women take a stand together
Three generations of women from one Bristol family plan to hold signs outside Bristol Crown Court. Of her decision to attend, Sarah MacDonald (56) said:
"I love it that I can attend with my mother and my daughter, representing the power and continuity of Life, which we are all committed to serving and protecting."
Renee Slater (grandmother, 84) said:
"The repression of legitimate protest must still, and always be resisted."
Vivi MacDonald (granddaughter, 19) said:
"The continuous measures by the government to limit protest are threatening everyone's freedom and ability to take action or express their opinion based on our own conscience in the light of the urgent need for social, political and environmental change"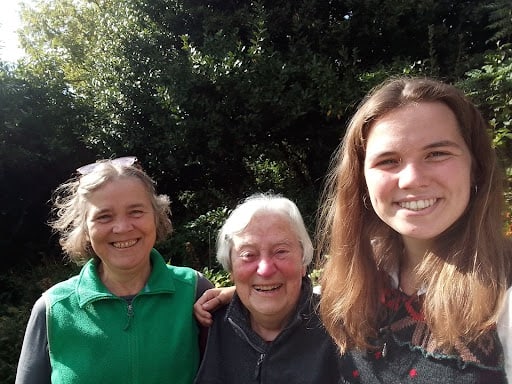 Civil Society, legal and mental health professionals rally round
Alongside those replicating Trudi Warner's action directly, others have expressed support in public statements. More than 50 members of the Climate Psychology Alliance have publicly written to Mr Tomlinson to say:
"In the current context, we consider that Trudi Warner's action was both appropriate and proportionate and we would be prepared to act in a similar way."
The Barrister magazine has published an article by Richard Vogler, Professor of Comparative Criminal Law and Criminal Justice, University of Sussex, "We are All Trudi Warner! Promoting the Rights of Jurors in the Twenty First Century", which begins:
"George Orwell noticed the tendency of repressive law to degenerate into farce, when truth becomes a lie and common sense is heresy. This is worth remembering today, when the Solicitor General, Michael Tomlinson KC, has concluded that it is a prosecutable offence for a climate campaigner, Trudi Warner to hold up a sign outside a criminal court, simply proclaiming one of the fundamental principles of the common law; the right of a jury to decide a case according to its conscience."
More than 150 people have signed a petition on change. org, "Please charge me" in solidarity with Trudi Warner."
Others have spoken out on social media. Dr James Dyke, Associate Professor in Earth System Science at Exeter University, said:
"This would be laughable if it were not so frightening. People are facing arrest & prosecution for silently holding up signs that simply state the legal rights of juries – one of the central pillars of the UK criminal legal system!",
Paul Powlesland, a practising barrister and member of the Bar Council, said:
"It's absurd overreach and an appalling assault on freedom of speech for the police to threaten members of the public with serious criminal charges just for holding up signs with the law on them. This will have a chilling effect on the right to freedom of expression everywhere."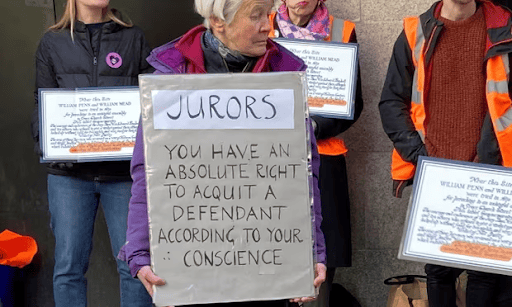 Backdrop of escalating repression
This show or public resistance comes against a background of increasing repression in Britain. In March, The Times warned that "Protest laws 'put UK on a par with El Salvador'". In April, the UN urged the British government to reverse its 'deeply troubling' new laws clamping down on freedom of assembly and expression. And in August it emerged that German courts are refusing to extradite to the UK over human rights violations in British prisons. The US journalist, Amy Westervelt, has recently linked this rising repression to the influence of fossil fuel industry think-tanks, such as Policy Exchange, on the British government.
Dilemma for the authorities as members of public launch Defend Our Juries campaign
Monday's united front from the public presents Mr Tomlinson, the police and the courts with a dilemma. If holding these signs is really a serious criminal offence, amounting to interference with the course of justice, punishable with life imprisonment, then all who do so should be arrested and prosecuted. But arresting so many people for upholding simple and truthful signs risks further backlash.
In a recent consultation, over 80% of the public cited trial by jury as a fundamental British right (alongside access to free healthcare).
Notes for editors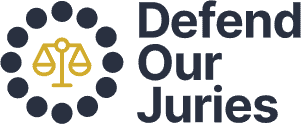 Press contact: 07795 316164
Email: [email protected]
Website: defendourjuries.org
Images and video available here: https://drive.google.com/drive/folders/1Y_3WUcSZ0_Pt-I4g040dd9RE12ci-JK0
Actions expected at the following Crown Courts: Birmingham, Brighton & Hove, Bristol, Cambridge, Derby, Exeter, Gloucester, Kingston, Leicester, Lincoln, London – Inner London, London – Old Bailey, London – Southwark, Manchester, Nottingham, Oxford, Reading, Sheffield, Southampton, St Albans, Swansea, Truro, Wolverhampton, Worcester (including some solo actions).
The aims of the Defend Our Juries campaign are:
to bring to public attention the programme to undermine trial by jury in the context of those taking action to expose government dishonesty and corporate greed
to raise awareness of the vital constitutional safeguard that juries can acquit a defendant as a matter of conscience, irrespective of a judge's direction that there is no available defence (a principle also known as 'jury equity' or 'jury nullification')
to ensure that all defendants have the opportunity to explain their actions when their liberty is at stake, including by explaining their motivations and beliefs.
"Fears over right to protest after woman with sign at climate trial prosecuted" (Guardian, 19 September 2023)
"Big Oil Billions and The Real Cancel Culture Threatening Brits With Prison for Telling the Truth"
"Charge us with contempt too, say 40 people, if climate activist prosecuted" (Guardian, 17 August)
'Contempt threat against climate activist may undermine trial by jury, lawyers say', Guardian, 26 July 2023
"The Right To Acquit" (Real Media, YouTube)
"Protesters must be allowed to explain motives in court" (The Times, 13 March 23)