A group of LGBTQ+ supporters of Just Stop Oil have disrupted the London Pride March. They are demanding an end to new fossil fuel projects in the UK, and are calling on London Pride to issue a statement condemning new oil, gas and coal. They are also calling on London Pride to cease accepting sponsorship money from high polluting industries and stop allowing the inclusion of floats from these organisations in the parade. [1][2]
At around 1:25pm, nine LGBTQ+ Just Stop Oil supporters blocked the Pride parade in front of the Coca-Cola float- the world's worst plastic polluter, accused of numerous human rights abuses. Some supporters blocked the float whilst two others sprayed pink and black paint over the road.
This afternoon's action comes after LGBTQ+ representatives from Just Stop Oil met with London Pride to discuss their demands, after it was revealed Just Stop Oil would consider disrupting the event. London Pride have so far failed to make a commitment to take necessary steps to protect the LGBTQ+ community from the unfolding climate collapse, and have failed to address their relationship with destructive industries co-opting Pride to 'pinkwash' their reputations.
Meanwhile, at 1pm, a group of Just Stop Oil supporters set off marching from Parliament Square on their own Pride-themed slow march.
James Skeet, a Just Stop Oil spokesperson said:
"Pride was born from protest. It speaks to how far we've come as a community, that high polluting industries and the banks that fund them, now see Pride as a useful vehicle for sanitising their reputations, waving rainbow flags in one hand whilst accelerating social collapse with the other. It is queer people, and particularly queer people of colour in the global south, who are suffering first in this accelerating social breakdown. What would those who instigated the gay liberation movement, during the Stonewall riots in 1969, make of the corporatised spectacle Pride has now become?"
"These partnerships embarrass the LGBTQ+ community, at a time when much of the cultural world is rejecting ties to these toxic industries. We call on Pride to remember the spirit in which it was founded and to respect the memory of all those who fought and died to secure the rights we now possess, whilst taking the necessary steps to protect our community long into the future."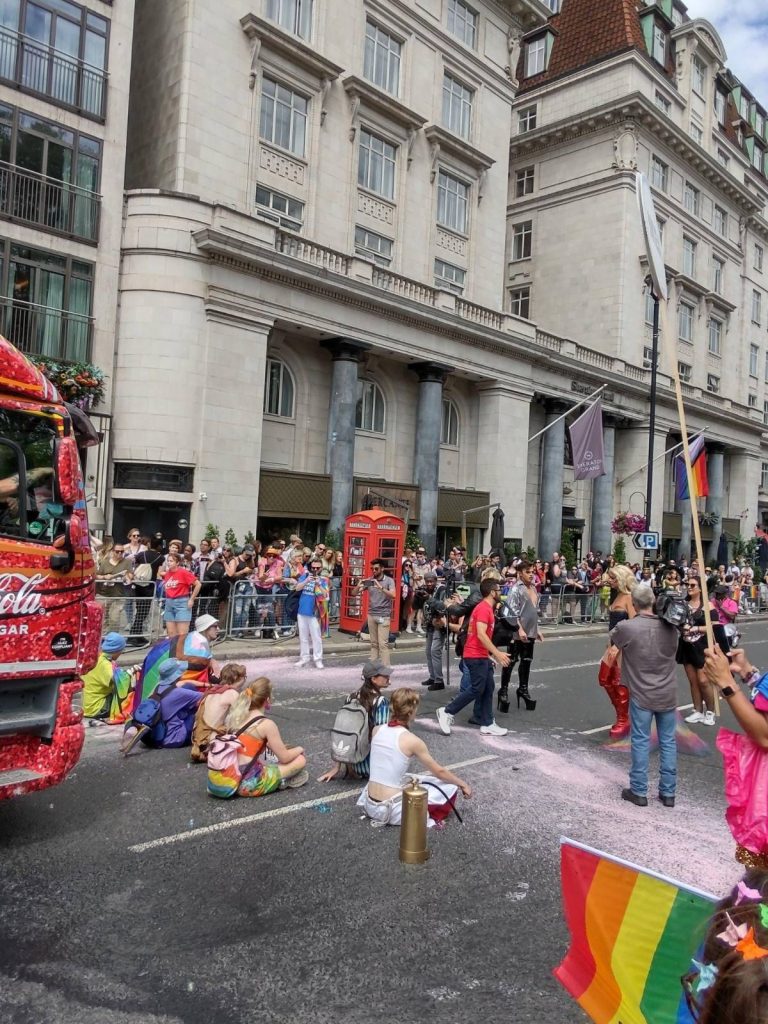 Peter Tatchell (he/him), the legendary LGBTQ+ rights campaigner, and prominent member of the Gay Liberation Front and the civil resistance group OutRage! Said:
"I helped organise the first Pride in the UK in 1972 and have attended every Pride London march since then. Pride was always meant to be both a celebration and a protest. From the outset, we stood in solidarity with other struggles for freedom and social justice, against corporate pinkwashing and all forms of exploitation. We saw queer liberation as just one aspect of a wider liberation movement."
"Climate destruction is destroying communities, jobs, homes and lives across the world, especially in poorer countries. Fossil fuels are endangering the survival of humanity – including LGBTQ+ people. Our community must not collude with environment, species and climate destroying companies."
One of those taking action today, Ben (she/her), 68 a retired librarian, from Hebden Bridge, said:
"I'm a lesbian mother and grandmother. I came to my first Pride in 1985, and I remember being spat at in the street for holding hands with my partner, and the fear that our kids would be taken away because lesbians weren't 'fit' mothers."
"Our community got to where we are through civil resistance (I did a bit of spray painting myself) and I think we owe it to young people today, especially this wonderfully diverse LBGTQIA community, to protect their future. That's why it's so important to fight to avert the coming climate catastrophe, and I want our Pride to be part of this, not to enable pinkwashing by fossil fuel funders and airlines. It's time to Just Stop Oil!"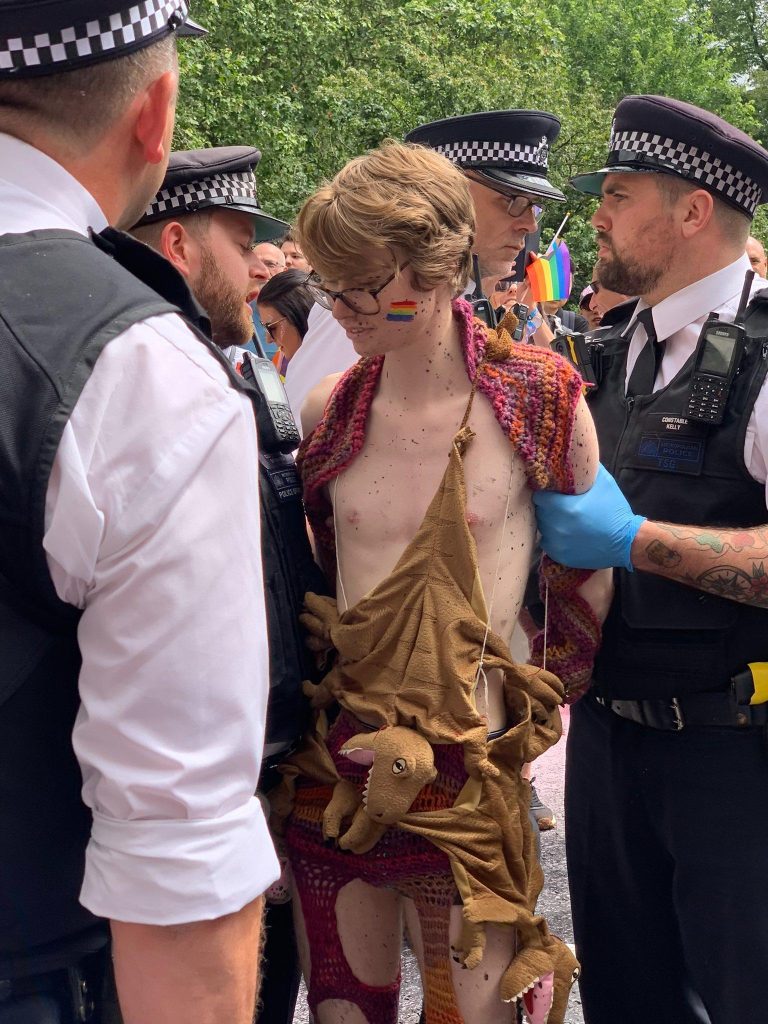 Anna Holland (they/them), 21, a university student from Newcastle, said:
"I went to Pride for the first time last year, and I was so disappointed to find that, instead of continuing the fight for the safety of LGBTQIA+ people, they were platforming companies like Barclays, United Airlines, British Gas, to name a few. I've previously seen floats from weapons manufacturers like BAE Systems!"
"If Pride continues to allow the companies that are accelerating climate breakdown to Pinkwash themselves, then we have to fight back and show them that they are standing on the wrong side of history. As victims of oppression ourselves, LGBTQIA+ people must stand in solidarity with the victims of fossil fuel production. There can be no Pride in climate destruction and those who enable it."
Since the Just Stop Oil campaign launched on 14th February 2022, there have been 2,200 arrests and 138 people have spent time in prison, many without trial. Just Stop Oil supporters Morgan Trowland and Marcus Decker are serving three-year prison sentences for resisting new oil, gas and coal in the longest sentences for peaceful climate action in British history .
Just Stop Oil is calling on all queer people and allies to remember our roots, reclaim pride and join us in civil resistance against against new oil gas and coal. Join a slow march and sign up for action at juststopoil.org.
We need to resist new oil, gas and coal. Support students against the East African Crude Oil Pipeline. Find out how: Join a Zoom call on Sunday 2nd July at 3pm:
https://us02web.zoom.us/meeting/register/tZ0ldu6gpjMpEtBiUqJUGMHjNT2pHHJLYRl2#/registration
ENDS
Press contact: 07762 987334
Press email: [email protected]
High quality images & video here:https://juststopoil.org/press-media
Website: https://juststopoil.org/
Facebook: https://www.facebook.com/JustStopOil/
Instagram: https://www.instagram.com/just.stopoil/
Twitter: https://twitter.com/JustStop_Oil
Youtube: https://juststopoil.org/youtube
Notes to Editors
[1] Just Stop Oil is a coalition of groups working together to demand that the government immediately halt all future licensing and consents for the exploration, development and production of fossil fuels in the UK. Just Stop Oil is a member of the A22 Network of civil resistance projects. Climate Emergency Fund is Just Stop Oil's primary funder for recruitment, training, and capacity building.
Just Stop Oil 'Blue Lights' policy: our policy is, and has always been, to move out of the way for emergency vehicles with siren sounding and 'blue lights' on.
[2] Just Stop Oil statement on Pride- https://juststopoil.org/2023/06/30/lgbtq-supporters-of-just-stop-oil-issue-statement-on-london-pride/