Just Stop Oil supporters have disrupted the Wimbledon Tennis Championships. They are demanding that the UK government halts all new licences and consents for oil, gas and coal. [1]
At around 14:10 two Just Stop Oil supporters ran onto Court 18, disrupting the match between Sho Shimabukuro and Grigor Dimitrov. The supporters threw environmentally-friendly orange confetti glitter and jigsaw pieces onto the courts, before being removed. The game was delayed whilst marshals picked up the pieces, until rain once again halted play.
One of those taking action today, Deborah Wilde, 68, a retired teacher from London, said:
"I'm just an ordinary grandmother in resistance to this government's policy of serving us new oil and gas licences. In normal circumstances this sort of disruption would be entirely unacceptable, but these aren't normal circumstances. We've just had the hottest June on record, breaking the previous record by nearly a whole degree! We don't need Hawk-eye to see that our government issuing over 100 new fossil fuel licences is a very bad line-call."
"Forget strawberries and cream, scientists are warning of impending food shortages, mass displacement and war. We are facing new pandemics, economic inflation and increasingly authoritarian governments who will attempt to crush civil unrest. This is a crisis and it needs a crisis response. I want a safe future, not just for my grandchildren but for all children around the world and the generations to come."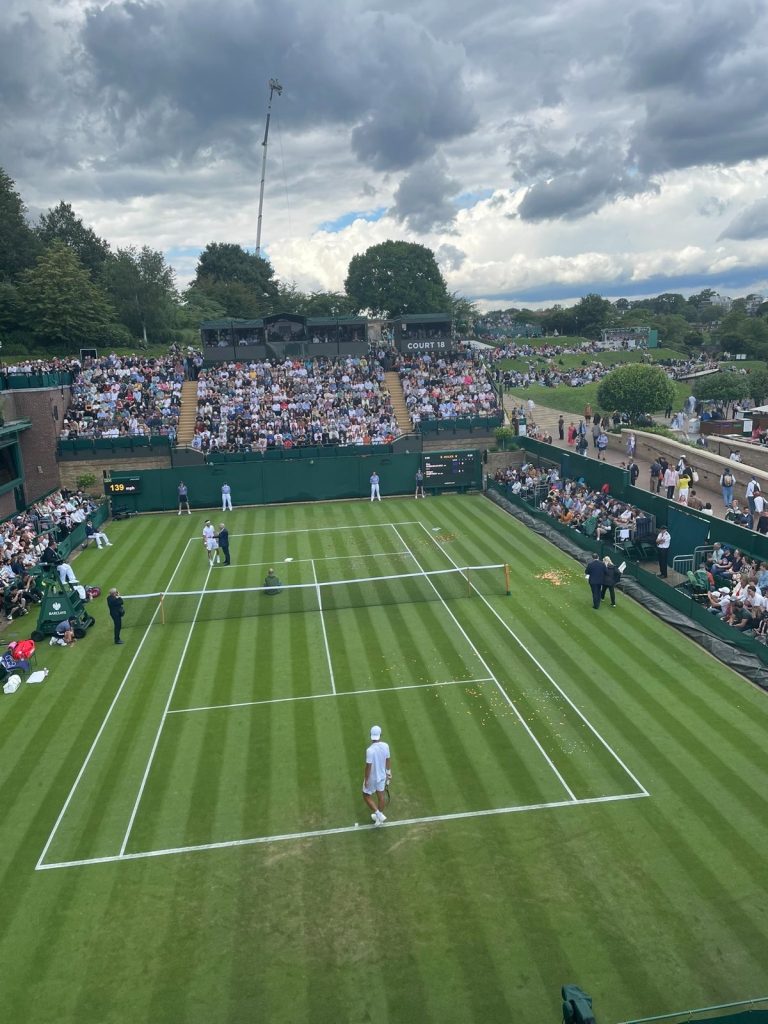 Also taking action, Simon Milner-Edwards, 66, a retired musician, from Manchester said:
"I'm here for my grandchildren and everybody else's. I'm not prepared to let our politicians wreck everything and leave the next generation to pick up the pieces. The last thing I want to do is spoil people's enjoyment of Wimbledon, but right now, on Centre Court, it's humanity vs oil and gas- and the umpire is getting every call wrong. How long are we going to take this before we see a McEnroe-level meltdown!?"
After the game between Sho Shimabukuro and Grigor Dimitrov had concluded, Just Stop Oil then disrupted the second match of the day. One Just Stop Oil supporter stormed Court 18 in yet another cloud of jigsaw and confetti pieces, this time halting play between Katie Boulter and Daria Saville.
The lone supporter was William John Ward, 66, a retired civil engineer from Epsom, he said:
"I don't like making a racket, but I don't want my grandchildren, nieces and nephews to suffer. Right now, millions of people are being forced outside of the conditions necessary to support human life."
"I can't let this happen. Our government is courting disaster. I've had five meetings with my MP, Chris Grayling, and he simply doesn't get it. He doesn't seem to understand the warnings from the United Nations, from the International Energy Agency and from the governments' own climate change committee. I have no choice but to get the message out in whatever way I can. I'm retired and want to enjoy my retirement, but I feel I have no choice but to take action. I've tried everything else."
Today's action comes as the Met office confirmed on Monday that June was the hottest on record, with the average monthly temperature of 15.8C exceeding the previous highest average June temperature, recorded in 1940 and 1976, by 0.9C.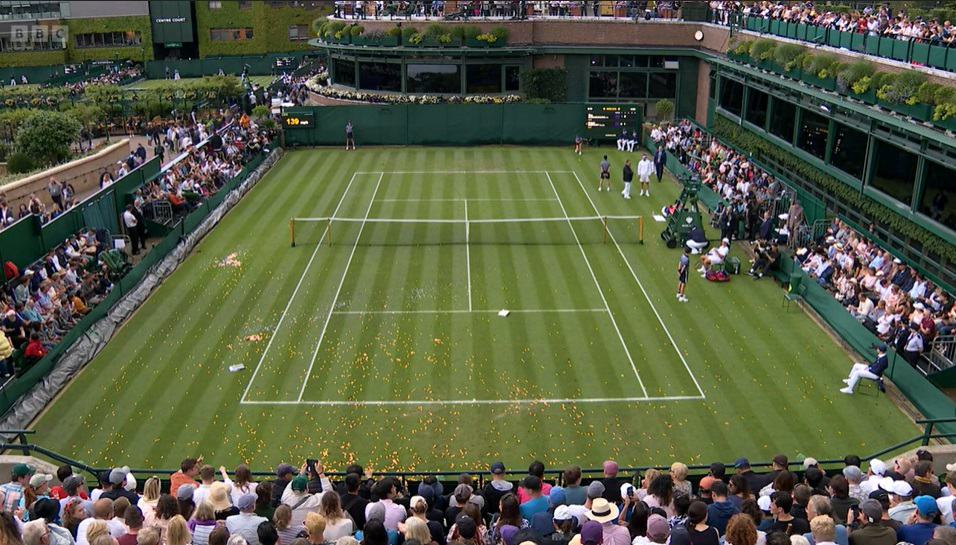 Paul Davies, Met Office chief meteorologist and climate extremes principal fellow said: "An increase of 0.9C may not seem a huge amount, but it's really significant because it has taken the average daytime and the night time temperature for the whole of the UK. That's significant in a warming climate and because of the consequential impacts on society." [2]
The Wimbledon Championships are currently under fire after signing a sponsorship deal with Barclays Bank, which has been accused of using the tournament as a means of greenwashing its reputation. Barclays gave $38bn (£30bn) to oil and gas companies, including Exxon Mobil, Shell and TotalEnergies, in the last two years. [3]
Just Stop Oil supporters have completed up to seven marches a day, six days a week since the 24th April. Over 600 ordinary people from all over the UK have taken part. Including arrests at the Coronation and cultural and sporting events there have been around 234 arrests this year.
Since the Just Stop Oil campaign launched on 14th February 2022, there have been over 2,200 arrests and 138 people have spent time in prison, many without trial. Just Stop Oil supporters Morgan Trowland and Marcus Decker are serving three-year prison sentences for resisting new oil, gas and coal in the longest sentences for peaceful climate action in British history.
Time's up for new oil, gas and coal. It's time everyone got on the streets, marching every day to demand change. Join us to march 16-23rd July, sign up for action at juststopoil.org.
ENDS
Press contact: 07762 987334
Press email: [email protected]
High quality images & video here:https://juststopoil.org/press-media
Website: https://juststopoil.org/
Facebook: https://www.facebook.com/JustStopOil/
Instagram: https://www.instagram.com/just.stopoil/
Twitter: https://twitter.com/JustStop_Oil
Youtube: https://juststopoil.org/youtube
Notes to Editors
[1] Just Stop Oil is a coalition of groups working together to demand that the government immediately halt all future licensing and consents for the exploration, development and production of fossil fuels in the UK. Just Stop Oil is a member of the A22 Network of civil resistance projects. Climate Emergency Fund is Just Stop Oil's primary funder for recruitment, training, and capacity building.
Just Stop Oil 'Blue Lights' policy: our policy is, and has always been, to move out of the way for emergency vehicles with siren sounding and 'blue lights' on.
[2] https://www.bbc.co.uk/news/science-environment-66084543
[3] https://www.theguardian.com/sport/2023/jul/03/celebrities-call-on-wimbledon-drop-barclays-sponsorship-richard-curtis-emma-thompson