Just Stop Oil supporters are slow-marching in central London this morning. They are demanding that the government halts all new licences and consents for oil, gas and coal projects in the UK. [1]
Starting at 8:00 am, 26 supporters in 3 groups began marching in Vauxhall and Pimlico. Two marches blocked both directions of traffic on Vauxhall Bridge Road, which leads to Victoria. They were issued Section 12 Notices and were off the road by 8:21am. A third march in Vauxhall saw support from passers-by, whilst also experiencing aggression from road users, with a van forcing itself through the crowd. All marches were off the road by 8:38, but further marches are expected this morning.
The marches this morning were spurred on by global temperatures reaching a new record average on Monday, topping 17 degrees Celsius for the first time, with Tuesday breaking that record again at 17.2 degrees. [2]
Jane Touil, 56, is from Rochdale. She is visually impaired and was one of those marching in the road today. She said:
"Licensing new oil and gas is a crime against humanity. I cannot stand by and do nothing, knowing that millions are going to die."
"Our government is lying about the need for new oil, gas and coal. We have the solutions and if we implement them quickly, climate breakdown will not be so severe. If we carry on this path, human civilisation will collapse within my lifetime and billions will die. It's already starting to happen."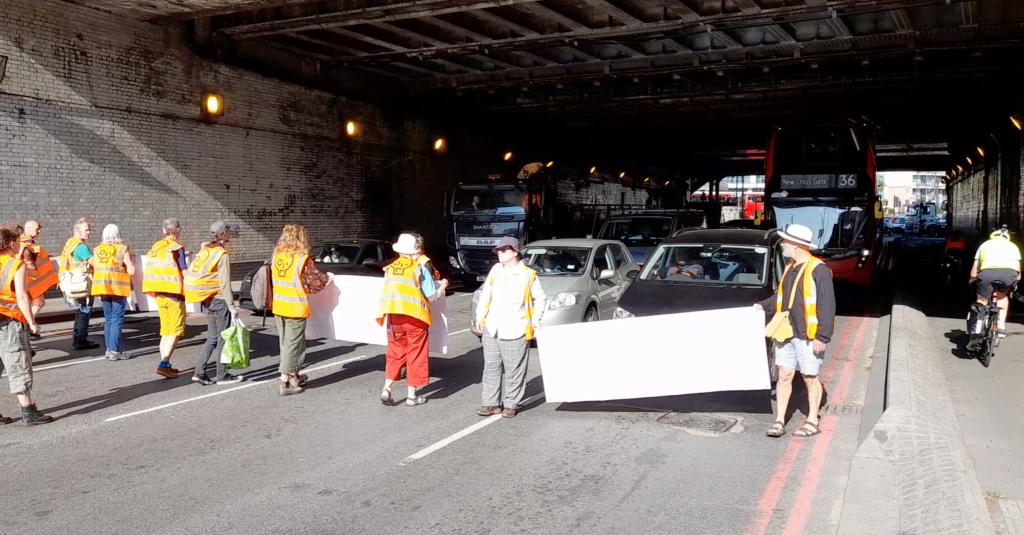 Not only did Monday see the hottest average air temperature in recorded history, but the record was immediately broken by 0.2 degrees the following day. Judging by these figures, from The University of Maine Climate Reanalyzer, analysts have said this may have been the hottest week on record. Dr Karsten Haustein, a researcher of atmospheric radiation at Leipzig University, said that July is likely to be the hottest month on Earth for at least 120,000 years;
UN secretary general, António Guterres, has warned that "climate change is out of control", adding, "If we persist in delaying key measures that are needed, I think we are moving into a catastrophic situation, as the last two records in temperature demonstrates." [3]
A spokesperson for Just Stop Oil said:
"There is a direct link between pumping oil and mass human death. Last summer, we had a taste of it with thousands of excess deaths recorded during a heatwave. In Europe, we suffered the worst drought in 500 years, wildfires, and flooding – this will only get worse. It will claim more and more lives each year. That's our family's lives on the line. It's time to pick a side – oil and gas profits or human life. New oil and gas is genocide, and oil pumped from the North Sea will be sold off by rich foreign investors without providing any energy security for the UK. Switching to renewable energy will secure jobs at home and stop deadly emissions."
Just Stop Oil supporters have completed up to seven marches a day, six days a week since the 24th April. Over 600 ordinary people from all over the UK have taken part. Including arrests at the Coronation and cultural and sporting events there have been around 235 arrests this year.
Since the Just Stop Oil campaign launched on 14th February 2022, there have been over 2,200 arrests and 138 people have spent time in prison, many without trial. Just Stop Oil supporters Morgan Trowland and Marcus Decker are serving three-year prison sentences for resisting new oil, gas and coal in the longest sentences for peaceful climate action in British history.
Time's up for new oil, gas and coal. It's time everyone got on the streets, marching every day to demand change. Join us to march from the 16th-23rd July. Sign up for action at juststopoil.org.
ENDS
Press contact: 07762 987334
Press email: [email protected]
High-quality images & video here:https://juststopoil.org/press-media
Website: https://juststopoil.org/
Facebook: https://www.facebook.com/JustStopOil/
Instagram: https://www.instagram.com/just.stopoil/
Twitter: https://twitter.com/JustStop_Oil
Youtube: https://juststopoil.org/youtube
Notes to Editors
[1] Just Stop Oil is a coalition of groups working together to demand that the government immediately halt all future licensing and consents for the exploration, development and production of fossil fuels in the UK. Just Stop Oil is a member of the A22 Network of civil resistance projects. Climate Emergency Fund is Just Stop Oil's primary funder for recruitment, training, and capacity building.
Just Stop Oil 'Blue Lights' policy: our policy is, and has always been, to move out of the way for emergency vehicles with siren sounding and 'blue lights' on.
[2] https://www.bbc.co.uk/news/science-environment-66104822
[3] https://www.theguardian.com/environment/2023/jul/07/un-climate-change-hottest-week-world