Three Just Stop Oil supporters have disrupted the TV comedy talk show, the Last Leg on Channel 4. They are demanding that the UK government halt any new licensing or consents for oil, gas and coal extraction in the UK. [1]
At around 10.00pm, three Just Stop Oil supporters ran onto the set of the Last Leg, during the live show, in a cloud of confetti and jigsaw pieces blasting the song 'Hit Me Baby One More Time' by Britney Spears- in reference to the viral video featured on the program last week. The three supporters thanked the Last Leg presenters, Adam Hills, Josh Widdicome and Alex Brooker for their support and gifted them their own hi-vis vests.
Tonight's action comes after the presenters called for a disruption before every sporting event on last week's show. 
A Just Stop Oil spokesperson said:
"Be careful what you wish for! Thanks to the Last Leg for their kind words of support. We have taken on board their suggestion to provide disruptions before every event, and have decided to begin with The Last Leg. We would like to extend an invite to Adam, Alex and Josh to join us on the streets next week, as we continue demanding an end to new oil, gas and coal licences in the UK."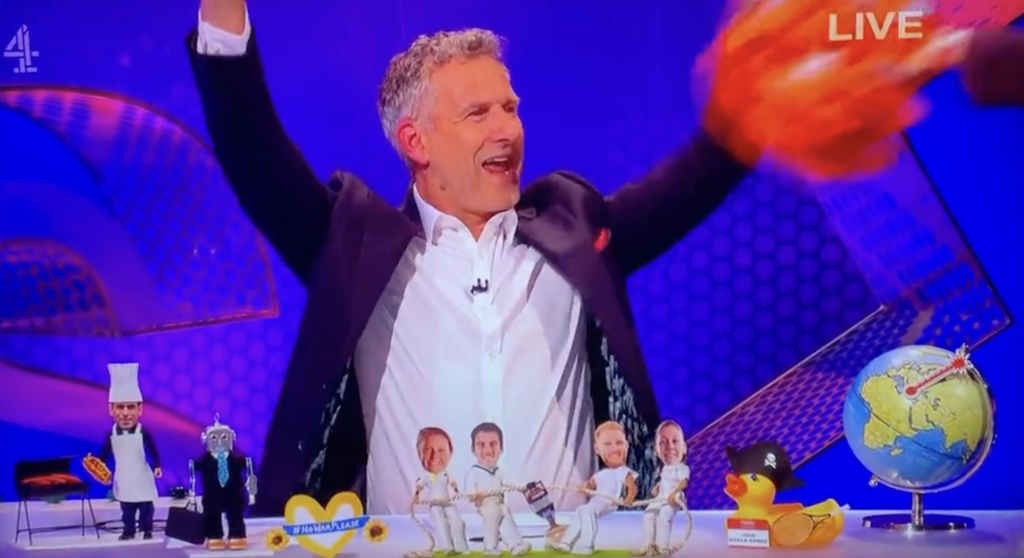 One of those taking action today, Kush Naker, 33, a doctor of infectious disease from London, said:
"I'd like to thank The Last Leg's Adam Hills, Josh Widdicombe and Alex Brooker for their support of Just Stop Oil's action at Wimbledon last week, and their proposal to take time at every sporting event to highlight the climate crisis. We need to be taking non-violent action everywhere and all the time in order to force this cruel and inept government to make the only sensible decision which is to end all new oil and gas licences"
"I love The Last Leg, this action is not against them in any way, but in fact an opportunity to invite the hosts of the show and all its viewers to join us in civil resistance against this criminal government."
William John Ward, 66, a retired civil engineer from Epsom, who gained notoriety by throwing a jigsaw and confetti at Wimbledon, last week, said:
"I don't want my grandchildren, nieces and nephews to suffer. Right now, millions of people are being forced to live in conditions that are beyond those necessary to support human life."
"I can't let this happen. I've had five meetings with my MP, Chris Grayling, and he simply doesn't get it. He doesn't seem to understand the warnings from the United Nations, from the International Energy Agency and from the governments' own climate change committee. I have no choice but to get the message out in whatever way I can. I'm retired and want to enjoy my retirement, but I feel I have no choice but to take action. I've tried everything else."
Since the Just Stop Oil campaign launched on 14th February 2022, there have been over 2,200 arrests and 138 people have spent time in prison, many without trial. Just Stop Oil supporters Morgan Trowland and Marcus Decker are serving three-year prison sentences for resisting new oil, gas and coal in the longest sentences for peaceful climate action in British history.
It's time to get off the sidelines and join in civil resistance to end new oil, gas and coal. We are inviting everyone to come and march with us every day in London from the 16th-23rd July. Sign up for action at juststopoil.org.
ENDS
Press contact: 07762 987334
Press email: [email protected]
High quality images & video here:https://juststopoil.org/press-media
Website: https://juststopoil.org/
Facebook: https://www.facebook.com/JustStopOil/
Instagram: https://www.instagram.com/just.stopoil/
Twitter: https://twitter.com/JustStop_Oil
Youtube: https://juststopoil.org/youtube
Notes to Editors
[1] Just Stop Oil is a coalition of groups working together to demand that the government immediately halt all future licensing and consents for the exploration, development and production of fossil fuels in the UK. Just Stop Oil is a member of the A22 Network of civil resistance projects. Climate Emergency Fund is Just Stop Oil's primary funder for recruitment, training, and capacity building.
Just Stop Oil 'Blue Lights' policy: our policy is, and has always been, to move out of the way for emergency vehicles with siren sounding and 'blue lights' on.
[2] https://www.thenational.scot/news/23616781.bbc-accused-false-balance-reporting-north-sea-oil-gas/