Two Just Stop Oil supporters have disrupted the BBC Proms. They are demanding that the UK government halt any new licensing or consents for oil, gas and coal extraction in the UK. [1]
At around 8:40pm, two Just Stop Oil supporters ran onto the stage at the Royal Albert Hall, on the opening-night of the BBC Proms. They sounded whistles, whilst holding a banner which read 'Just Stop Oil.' The pair attempted to address the audience before being forcibly removed.
One of those taking action today, Kate Logan, 38, A mum of two from London, said:
"Many years ago I sang with a youth choir at the Albert hall, never imagining I would one day disrupt a performance here to draw attention to the planetary crisis we find ourselves in. But that's what this has come to. Our leaders and the press have failed us for decades and now it's up to ordinary people to demand the changes we need."
"We cannot afford to fiddle while Rome burns, our children need us to drop everything and act like this is the emergency it truly is. We need the BBC and the wider media to change their tune, tell the truth and connect the dots. The BBC is there to serve the public, it cannot be a mouthpiece of this corrupt government and its big oil pals."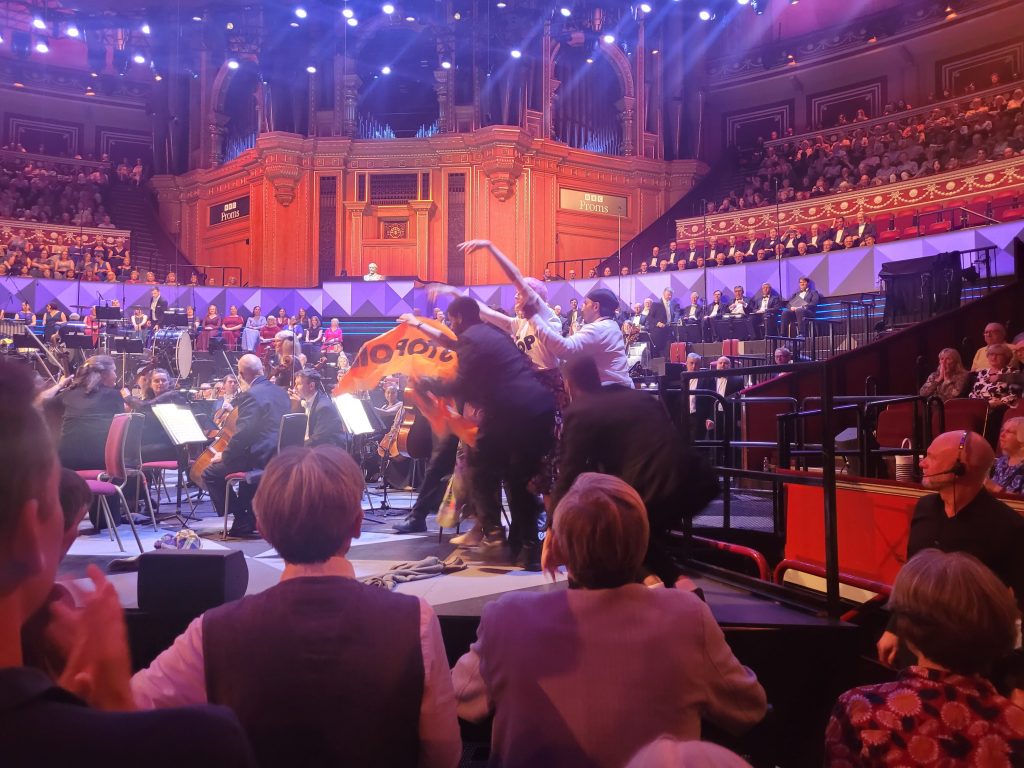 Also taking action this evening, Pia Bastide, 29, a community worker from London, said:
"I'm sorry to harp on about it, but business as usual isn't working anymore. We can no longer ignore this crisis, when extreme temperatures are scorching Europe right now. Last week, the Secretary General of the United Nations said that the climate crisis is 'out of control'."
"I refuse to accept that my future is being sold away, one new oil licence at a time, and do nothing. The government is undertaking actions that will kill millions and the BBC is not doing enough to hold them to account. It's the same old song and dance of false balance, the downplaying of the emergency and repeating government lies."
Tonight's action comes in response to the BBC's underwhelming coverage of the climate emergency. In recent weeks the BBC has been accused of 'false balance' as well as uncritically regurgitating government and oil company propaganda. [2]
A Just Stop Oil spokesperson said:
"Humanity is at risk, and so is everything we have ever created. Our works of art, our music and our traditions – we're terrifyingly close to losing everything. Our cherished institutions like the BBC, are failing us. Along with the billionaire owned press, the BBC has failed to communicate the perilous urgency of our situation and they have failed in their fundamental duty to identify and hold to account those who are responsible."
"We are calling on the BBC to do better. You cannot remain 'neutral' on the breakdown of civilization. You cannot see both sides of extinction. You are either fighting for human survival or you are complicit with genocide."
"It is immoral for cultural institutions to stand by and watch whilst our society faces inevitable collapse. We call on everyone involved in media, arts, heritage and culture to join us in civil resistance."
Since the Just Stop Oil campaign launched on 14th February 2022, there have been over 2,200 arrests and 138 people have spent time in prison, many without trial. Just Stop Oil supporters Morgan Trowland and Marcus Decker are serving three-year prison sentences for resisting new oil, gas and coal in the longest sentences for peaceful climate action in British history.
It's time to get off the sidelines and join in civil resistance to end new oil, gas and coal. We are inviting everyone to come and march with us every day in London from the 16th-23rd July. Sign up for action at juststopoil.org.
ENDS
Press contact: 07762 987334
Press email: [email protected]
High quality images & video here:https://juststopoil.org/press-media
Website: https://juststopoil.org/
Facebook: https://www.facebook.com/JustStopOil/
Instagram: https://www.instagram.com/just.stopoil/
Twitter: https://twitter.com/JustStop_Oil
Youtube: https://juststopoil.org/youtube
Notes to Editors
[1] Just Stop Oil is a coalition of groups working together to demand that the government immediately halt all future licensing and consents for the exploration, development and production of fossil fuels in the UK. Just Stop Oil is a member of the A22 Network of civil resistance projects. Climate Emergency Fund is Just Stop Oil's primary funder for recruitment, training, and capacity building.
Just Stop Oil 'Blue Lights' policy: our policy is, and has always been, to move out of the way for emergency vehicles with siren sounding and 'blue lights' on.
[2] https://www.thenational.scot/news/23616781.bbc-accused-false-balance-reporting-north-sea-oil-gas/