Just Stop Oil supporters have continued their campaign of peacefully marching in the streets of London, to the point of arrest. They are demanding the government immediately halt all new oil, gas, and coal projects in the UK. [1]
At 12:14pm this afternoon, 22 Just Stop Oil supporters from the North and South West of England and Wales began marching down Bow Road in East London. Metropolitan Police arrived at 12:17pm. By 12:30 they began arresting Just Stop Oil supporters for allegedly breaching Section 7 of the Public Order Act 2023. All bar 2-3 supporters were arrested by 13:03.
On Wednesday, officers of the Metropolitan Police were filmed using pain compliance techniques on nonviolent Just Stop Oil supporters. One of those who experienced these acts of violence was Alistair Glasse, a respected astronomer who worked for 20 years on the James Webb Space Telescope. [2]
Yesterday, Sam Griffiths, one of a number of Just Stop Oil supporters who have been imprisoned for 28 days, without trial, for slow marching, shared a statement. An excerpt reads: "I am shocked how willing the police and the court are to embrace this authoritarian and repressive legislation. Where is their moral backbone? Who are they serving? And who do they protect?" [3]
Today marked the end of two weeks of slow marching. According to the Metropolitan Police, there have been at least 298 arrests this month, resulting in 98 charges . Four Just Stop Oil supporters have been put on a tag and two are currently held on remand in Wandsworth and Bronzefield prisons. 14 people have been held in police custody for almost 48 hours after being arrested on Wednesday.
One of those taking action today is Sarah Moreis, a 58 year old shopkeeper and mum-of-four from Totnes. She said:
"It is obscene that the government is putting short term profits over the future for our children. They should be listening to the scientists, not the lobbyists who work for oil companies. Fossil fuel companies are paying dark-money think tanks like Policy Exchange, and it's them who Rishi Sunak has writing their laws"
"What will we do when flood waters ruin our homes and wreck our infrastructure? The only option available for normal people to be heard, is to cause disruption. We saw it work in the Netherlands, where the government there has been forced to end fossil fuel subsidies, and it can work here too."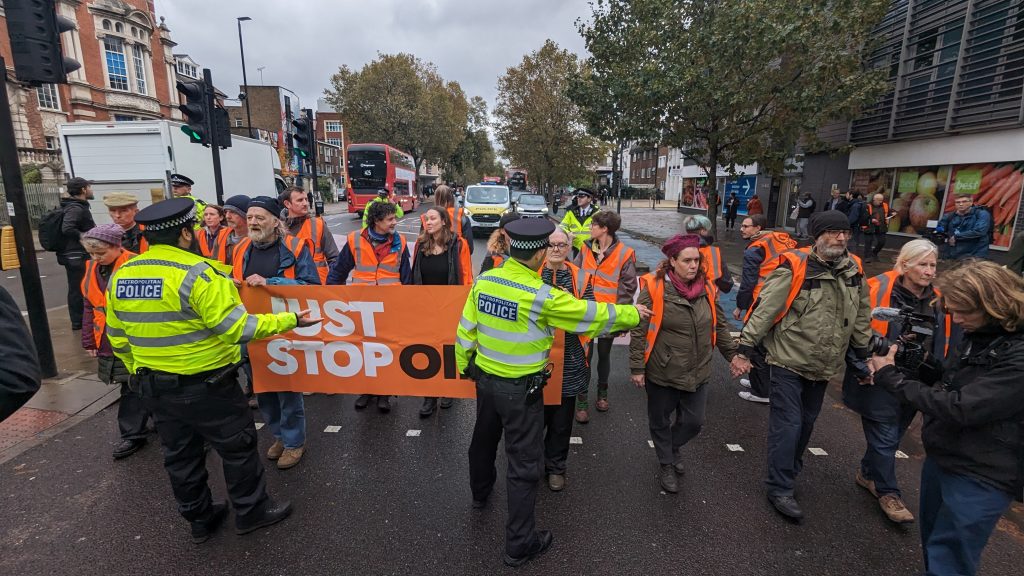 Also marching today is Neil Brophy, 54, a grandfather from Leeds who said:
"I am marching in response to government plans to issue over 100 new oil and gas licences. I am angry at how this government has failed to address the catastrophe that's killing people around the world. Without immediate action, the future of humanity is under threat. Soaring temperatures and adverse weather conditions are causing forest fires and flooding, killing countless people, and causing mass displacement of families."
"Historically, civil disobedience has always been the catalyst for essential change when governments have failed us. I can't ignore the facts. We owe it to the children and young people who are facing a frightening future to act."
We are not prepared to watch while the government plans for millions to die and destroys everything we love. It's up to all of us now to come together and resist. We cannot let them divide us. Together we can be the real opposition this country needs and we will win. We will stop new oil and gas.
From 20th November, Just Stop Oil is calling on everyone to join us every day at midday in Trafalgar Square to march in London until the government comes to its senses and ends new oil and gas.
ENDS
Press contact: 07762 987334
Press email: [email protected]
High quality images & video here:https://juststopoil.org/press-media
Website: https://juststopoil.org/
Facebook: https://www.facebook.com/JustStopOil/
Instagram: https://www.instagram.com/just.stopoil/
Twitter: https://twitter.com/JustStop_Oil
Youtube: https://juststopoil.org/youtube
Notes to Editors
[1] Just Stop Oil is a coalition of groups working together to demand that the government immediately halt all future licensing and consents for the exploration, development and production of fossil fuels in the UK. Just Stop Oil is a member of the A22 Network of civil resistance projects.
Just Stop Oil 'Blue Lights' policy: our policy is, and has always been, to move out of the way for emergency vehicles with siren sounding and 'blue lights' on.
[2] https://jwst.nasa.gov/content/meetTheTeam/people/glasse.html