Just Stop Oil supporters have continued their campaign of peacefully marching in the streets of London, to the point of arrest. They are demanding the government immediately halt all new oil, gas, and coal projects in the UK. [1]
At 8:30am today, 100 Just Stop Oil supporters stepped onto the road and began marching at Hendon Way in North London. Today's marchers include students from across the country as well as supporters from London.
Metropolitan Police were immediately on the scene, with over seven vans of officers. They began arresting Just Stop Oil supporters as soon as they began marching for allegedly breaching Section 7 of the Public Order Act 2023. However, the Metropolitan Police didn't have enough officers to detain all of the Just Stop Oil supporters, so at least 70 have continued marching. Events are still unfolding.
Today marks the third week of Just Stop Oil's relentless campaign of slow marching in London. So far there have been over 300 arrests, with 132 Just Stop Oil supporters charged, and three remanded to prison.
Yesterday, Just Stop Oil supporters held a march in North London in remembrance of all those who have died for this country, whose sacrifices are being betrayed by the Government's genocidal policy of licensing new oil and gas. One of those marching remarked: "New oil and gas will destroy what my relatives suffered and died to protect" [2]
One of those taking action today is Dr. Juliette Brown, a 53 year old doctor from London. She said:
"Democracy doesn't start and end at the ballot box. Whether it's marching for a ceasefire in Palestine or taking action with Just Stop Oil, I feel driven to act by government policies that are threatening the lives of countless millions of ordinary people."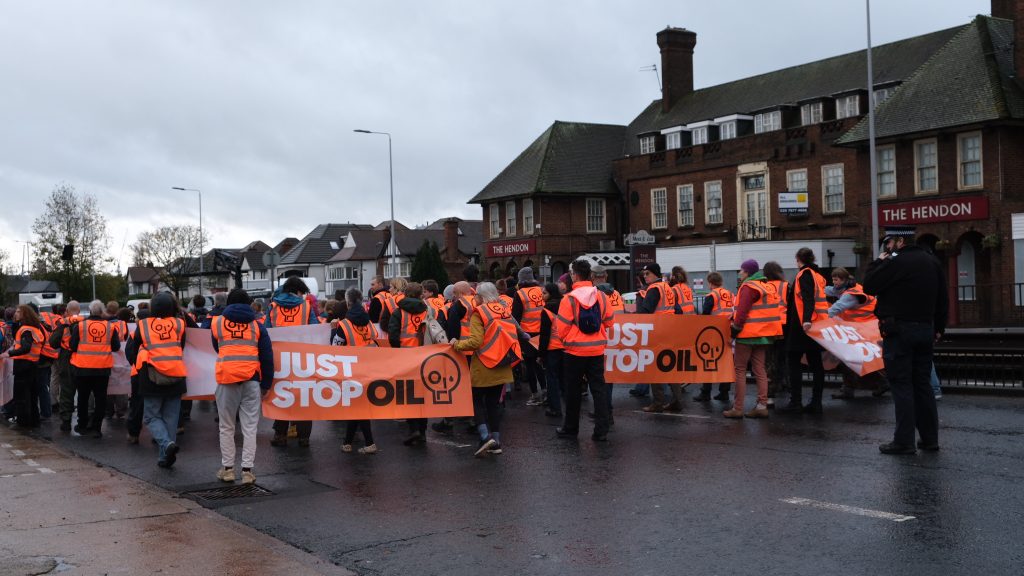 Also marching today is Taylor Collins, 19, a student from Southampton:
"Politicians are making huge money by trashing our future with unsustainable oil and gas, corrupt lobbying, and prolonging the cost of living crisis with an addiction to fossil fuels."
The climate crisis has been worsening throughout my entire life. Politicians have failed to address it. This is a terrible hand for a 19 year old to be dealt. Young people will face all the consequences but none of the benefits of carbon capitalism. If I could, I'd change the policy right now. But by the time my generation will have any influence, it will be too late. This is my last resort."
We are not prepared to watch while the government plans for millions to die and destroys everything we love. It's up to all of us now to come together and resist. We cannot let them divide us. Together we can be the real opposition this country needs and we will win. We will stop new oil and gas.
From 20th November, Just Stop Oil is calling on everyone to join us every day at midday in Trafalgar Square to march in London until the government comes to its senses and ends new oil and gas.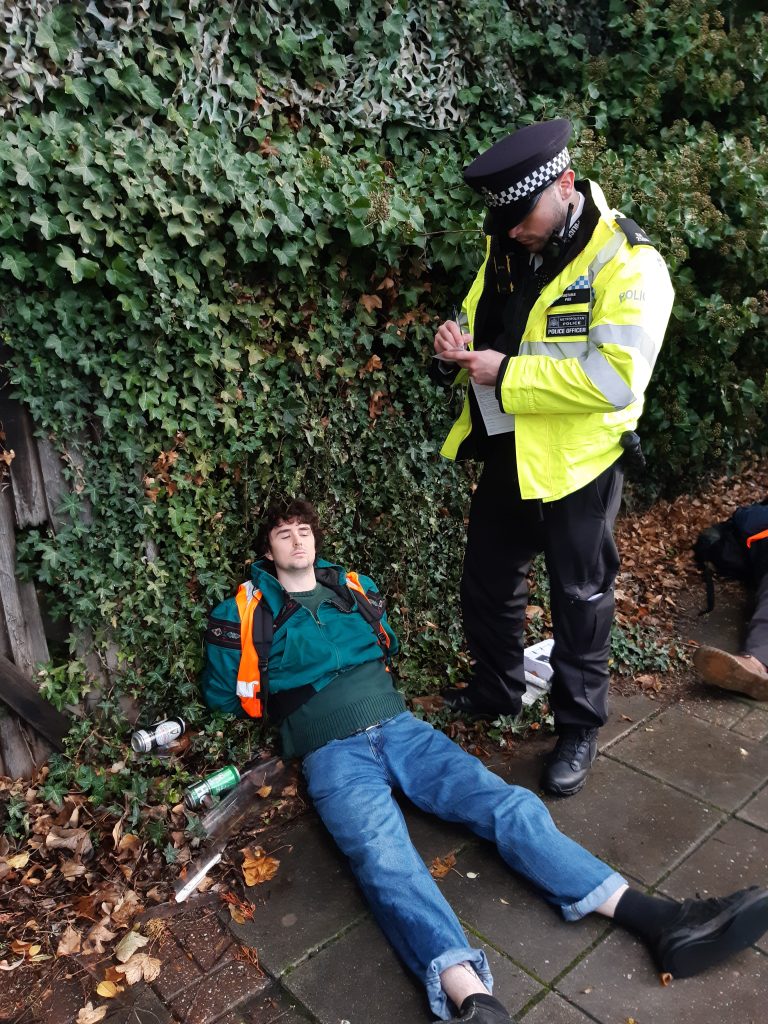 ENDS
Press contact: 07762 987334
Press email: [email protected]
High quality images & video here: https://juststopoil.org/press-media
Website: https://juststopoil.org/
Facebook: https://www.facebook.com/JustStopOil/
Instagram: https://www.instagram.com/just.stopoil/
Twitter: https://twitter.com/JustStop_Oil
Youtube: https://juststopoil.org/youtube
Notes to Editors
[1] Just Stop Oil is a coalition of groups working together to demand that the government immediately halt all future licensing and consents for the exploration, development and production of fossil fuels in the UK. Just Stop Oil is a member of the A22 Network of civil resistance projects.
Just Stop Oil 'Blue Lights' policy: our policy is, and has always been, to move out of the way for emergency vehicles with siren sounding and 'blue lights' on.
[2] https://juststopoil.org/2023/11/12/just-stop-oil-supporters-march-for-peace-and-to-demand-the-government-protects-all-people/