Just Stop Oil supporters, including students, are marching today demanding an end to new oil and gas. [1]
At 9:09 around 23 Just Stop Oil supporters stepped onto Kennington Park Road at the Oval in South London and marched north towards Kennington. At 9:16 the marchers left the road temporarily to allow traffic to pass after blue lights and a siren were heard.
At 9:19 a lone officer announced that the march was in breach of Section 7 of the Public Order Act 2023. More police began arriving, and at 9:22 officers began making arrests. By 9:30am all had been arrested. However, officers continued to struggle managing the Just Stop Oil supporters due to their peaceful noncompliance which saw them 'go floppy'.
Yesterday, the chair of the Metropolitan Police Federation warned that policing the daily Just Stop Oil marches and the weekly pro-Palestinian marches on Saturdays, was becoming unsustainable. He warned there is "no magic box of public order officers" the force could roll out to police the protests. [2]
This echoes the events that unfurled in the Netherlands recently, where the police unions made similar warnings to the Dutch government that policing the daily road-blocks of the A12 road near the Hague, was unsustainable. After 28 days of sustained road disruption, the division between the police and government eventually forced a negotiation with the protestors blocking the road. This resulted in the government voting to end fossil fuel subsidies after awareness about the issue massively increased in the country, with 73% of the population saying they are now in favour of abolition. [3]
One of those marching today is Thomas Dalton, 24, an electrician from Bristol said:
"I am a tradesman, an electrician. The cost of renewable energy is far lower than that of new oil and gas. We as a society need to build a new way forward that ensures clean, cheap energy and meets the needs of its citizens."
"I am taking action due to the criminal negligence of our government. New oil and gas licences are not only a direct assault on the possibility of a livable future. They are also evidence of a government that doesn't care for its most vulnerable people but only looks after wealthy donors and corporations destroying the world"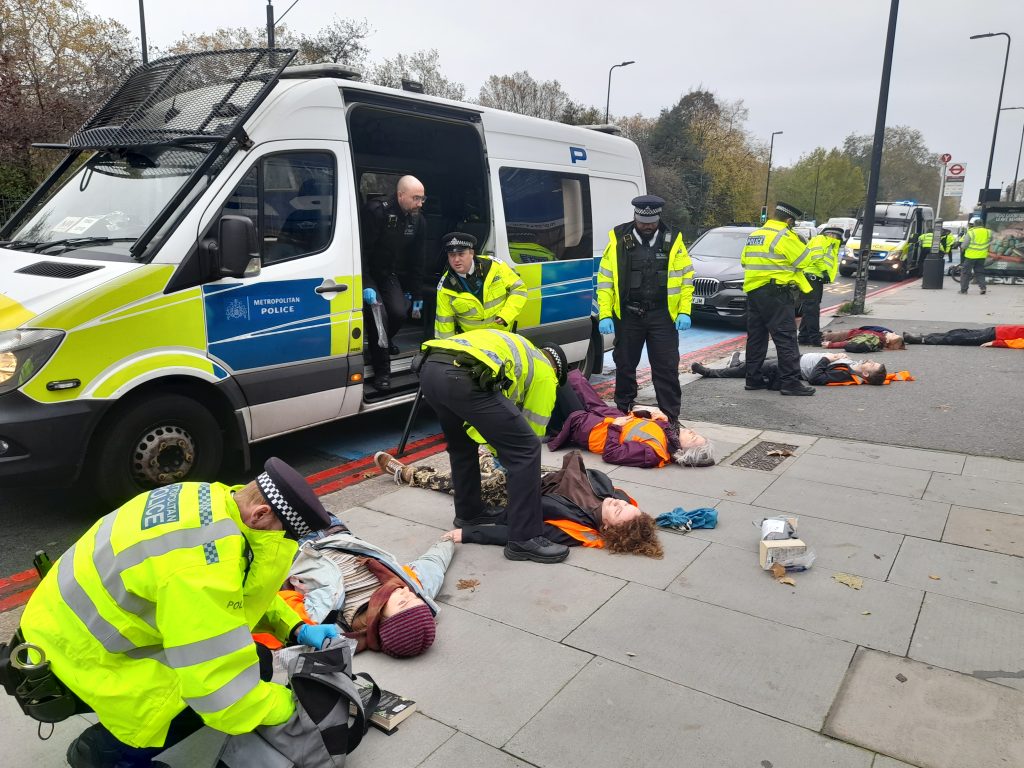 Mairi Johnston, 20, an Astrophysics student from Manchester, taking action today, said:
"I've had to make peace with the difficult fact that the future I've envisioned for myself doesn't exist. I've been hesitant to do anything that jeopardises my plans, but there is no point in protecting that future if nothing changes. Taking action with Just Stop Oil is how I will protect it."
"Scientists are predicting we will have permanently breached 1.5C in 2030. Then we will be facing societal collapse, billions of people will be displaced, and the world will look nothing like it does right now. I will be 26 years old. Our government is responsible for genocide – it's as simple as that. We are taking action because we don't see any other option."
Yesterday over 110 Just Stop Oil supporters were arrested at Hendon, bringing the total number of arrests since October 30th to 443. 10 people were held overnight and will be brought to court today.
Cressida Gethin, 21, from London was held for a second night after refusing to attend a court hearing yesterday. She is expected to appear at Westminster Magistrates Court today. Cressie is refusing to comply until the police take action to prosecute the politicians and oil executives pushing for new oil and gas licences when they know it means a death sentence for millions in the global south.
From 20th November, Just Stop Oil is calling on everyone to join us every day at midday in Trafalgar Square to march in London until the government comes to its senses and ends new oil and gas.
ENDS
Press contact: 07762 987334
Press email: [email protected]
High quality images & video here:https://juststopoil.org/press-media
Website: https://juststopoil.org/
Facebook: https://www.facebook.com/JustStopOil/
Instagram: https://www.instagram.com/just.stopoil/
Twitter: https://twitter.com/JustStop_Oil
Youtube: https://juststopoil.org/youtube
Notes to Editors
[1] Just Stop Oil is a coalition of groups working together to demand that the government immediately halt all future licensing and consents for the exploration, development and production of fossil fuels in the UK. Just Stop Oil is a member of the A22 Network of civil resistance projects.
Just Stop Oil 'Blue Lights' policy: our policy is, and has always been, to move out of the way for emergency vehicles with siren sounding and 'blue lights' on.
[2] https://www.telegraph.co.uk/news/2023/11/13/met-police-palestine-marches-london-christmas-unsustainable/
[3] https://extinctionrebellion.nl/a12-blockades-netherlands-effective-lower-house-asks-cabinet-for-phase-out-plan-for-fossil-fuel-subsidies/