Just Stop Oil supporters including students are once again marching to the point of arrest to demand an end to new oil and gas. [1]
At 10:36 around 66 Just Stop Oil supporters began marching South down Cromwell Road. Police were on the scene from 10:50, and began making arrests at 11:00. Lacking sufficient officers to arrest the marchers, the nonviolent march continued to 11:30 when officers themselves attempted to physically block the march, without success. Shortly afterwards, the remaining 15 marchers sat down. By 11:50 all supporters had been arrested.
One of those marching today is Alfie Hewitt, 23, a Teaching Assistant from Sheffield, said:
"I'm 23, and have realised that all chances of me or other young people having a normal future is being decimated by the government's absurd pursuit of new oil and gas. It's pure greed, and it's the younger generations that will bear the brunt of it. Crop failure, food shortages, mass death. I cannot sit by and do nothing, inaction in 2023 is not a neutral act."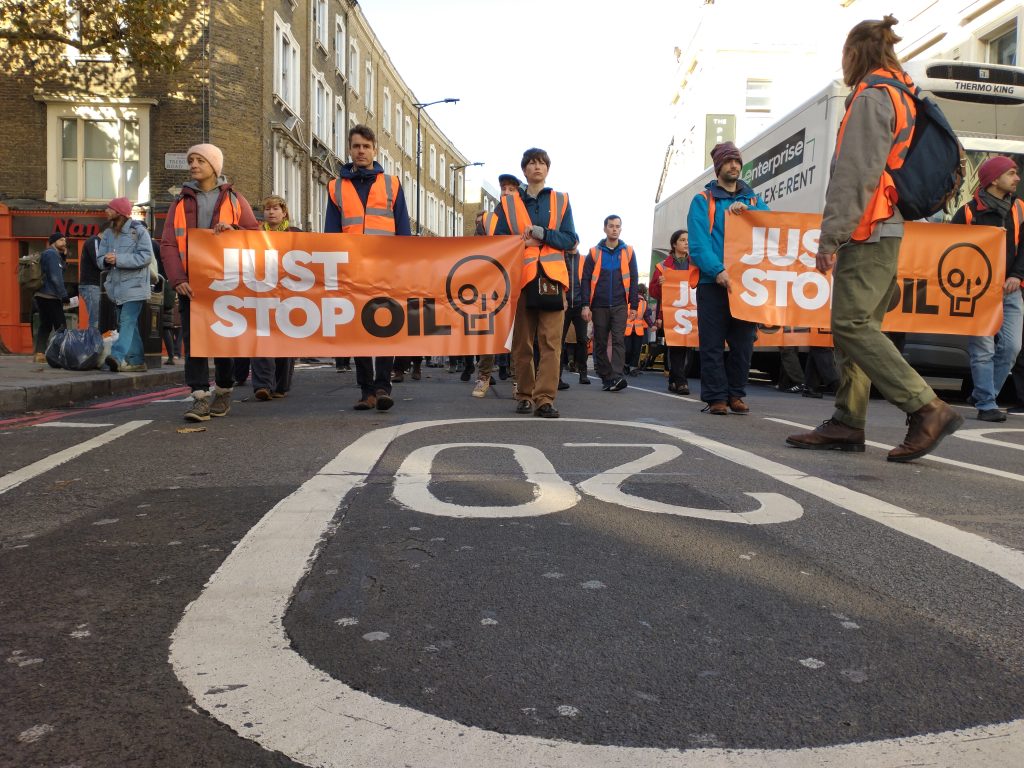 Another of those marching today is Connie Chilcott, 21, from Falmouth. She is a Politics and International Relations Student, who is getting arrested for the first time today. She said:
"My studies often teach me about the power of civil resistance to bring about social change, but this degree is setting me up for a future that doesn't exist. What is the point of a degree when food shortages mean my family can't eat? This government is profiting off genocide, democracy is broken, it's my duty to stand in resistance against this."
"When faced with the knowledge that millions of people in the Global South will experience the worst effects of climate breakdown, how can I do anything other than act? We have to stand together – our futures are being traded for the profits of the few. We can't allow this to happen. I want us all to live long, fulfilling, and healthy lives, but we must act now. It's people vs oil!"
Yesterday, another 23 Just Stop Oil supporters were arrested on Kennington Park Road, bringing the total number of arrests since October 30th to 466. There are currently 34 people being held for court and two are remanded in prison, without trial, for marching. Another two Just Stop Oil supporters have now been imprisoned for over a year for nonviolent direct action. They have been sentenced to 3 years and 2 years and 7 months respectively, in the longest sentences ever awarded for peaceful direct action. [2]
This week, the Metropolitan Police Federation warned that policing ongoing civil resistance in London was becoming unsustainable, echoing events that unfurled in the Netherlands recently. Sustained blocking of the A12 motorway near the Hague inflicted so much pressure on Dutch police, that the government there was forced to negotiate with those blocking the road; eventually leading to the government voting to end fossil fuel subsidies. [3][4]
Continued expansion of new oil and gas will bring about the wholesale destruction of ordered society and an end to the rule of law. We are not prepared to watch while the government continues to serve the interests of a few, to the detriment of everyone else. It's up to all of us to come together and resist. It is the will of the vast majority of people that we end new oil and gas and together we can make it happen.
From 20th November, Just Stop Oil is calling on everyone to join us every day at midday in Trafalgar Square to march in London until the government comes to its senses and ends new oil and gas.
ENDS
Press contact: 07762 987334
Press email: [email protected]
High quality images & video here:https://juststopoil.org/press-media
Website: https://juststopoil.org/
Facebook: https://www.facebook.com/JustStopOil/
Instagram: https://www.instagram.com/just.stopoil/
Twitter: https://twitter.com/JustStop_Oil
Youtube: https://juststopoil.org/youtube
Notes to Editors
[1] Just Stop Oil is a coalition of groups working together to demand that the government immediately halt all future licensing and consents for the exploration, development and production of fossil fuels in the UK. Just Stop Oil is a member of the A22 Network of civil resistance projects.
Just Stop Oil 'Blue Lights' policy: our policy is, and has always been, to move out of the way for emergency vehicles with siren sounding and 'blue lights' on.
[2] https://juststopoil.org/2023/04/21/bridge-climbers-get-3-years-in-longest-ever-sentence-for-peaceful-climate-action/
[3] https://www.telegraph.co.uk/news/2023/11/13/met-police-palestine-marches-london-christmas-unsustainable/
[4] https://extinctionrebellion.nl/a12-blockades-netherlands-effective-lower-house-asks-cabinet-for-phase-out-plan-for-fossil-fuel-subsidies/