Just Stop Oil supporters are on the streets of Central London today, demanding that the government halts all new licences and consents for oil, gas and coal projects in the UK. [1]
At 8:00am, around 43 Just Stop Oil Supporters in four groups began marching in the City, Lambeth and Westminster. One mini-march at Hyde Park Corner was issued a Public Order Act (Section 12) notice and off the road by 8:30. At around 9:30 five supporters were arrested on Clapham Road in Stockwell, for breach of Section 12. All other marches were off the road by 9:30am.
Hannah Hunt spoke to camera as she was led away by police. She said:
"I've got more faith in the people I've marched with today and been arrested with than our government to look after the people in this country, because these people and myself have picked a side, we've not picked oil, we've not picked money. We've picked life and survival and that's what you need to do as well, so please sign up for a slow march at juststopoil.com. It really is the least that you can do."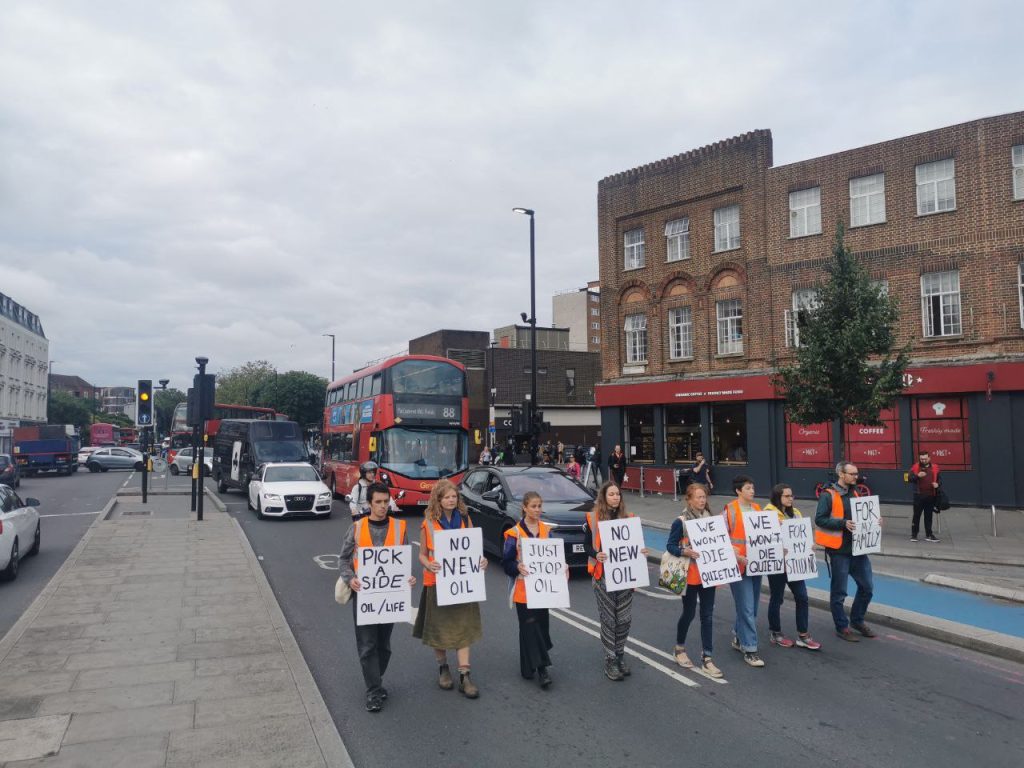 Further marches began from 10:45am around the City. At 11am a group of nine dads marched through Selfridges. This follows a march through Hamey's Toy Store by a group of mums yesterday. The dad's marched through the store with signs saying 'fathers for a future' and 'will our children survive 3.5 degrees?' at one point posing next to a Delorean, the iconic car from 'Back to the Future'. The dads were muscled out of the store by security by 11:15am. At 11:30 a sixth person was arrested for breach of Section 12 on The Highway in E1. Further marches are currently under way.
One of the Dad's marching in Selfridges today, Adam Beard, 54, a Gardener from Stroud, said:
"The famous clock above the entrance to Selfridges depicts mother time. This clock and statue was designed 80 years ago by Gilbert Bayes, my great great uncle. In 80 years time, if we carry on putting carbon into the atmosphere as we are now, we will likely have seen three degrees of warming, tipping points passed and runaway climate collapse bringing untold misery and death around the planet, as well as the complete breakdown of our society. I wonder what Gilbert would think about the legacy that we're leaving our grandchildren"
Sally Webber, 66, a former eye surgeon of 20 years, and a mother and grandmother, said:
"I'm a scientist and I've spent all my professional life caring for my patients and helping train the next generation of surgeons. After I retired I became increasingly aware of the climate emergency and the madness of continuing to burn fossil fuels. If our children, grandchildren and doctors of the next generation are to survive we must JUST STOP OIL."
"We already have all the technology, creativity, energy and caring that's required. It needs everyone to demand that our politicians, banks & the fossil fuel industry give the next generation a future. Political change comes when enough people demand it. Everyone needs to ask "what am I doing to protect the lives of our children?" and "is it enough?"
Today's action comes amid reports that Europe's record breaking heatwave has claimed its first life this summer, prompting health warnings for tourists. The European Space Agency suggests that the heatwave has only just begun. Italy, Spain, France, Germany and Poland are all experiencing extreme heat. The islands of Sicily and Sardinia are expected to hit 48°C– potentially the hottest temperatures ever recorded in Europe. ESA reports that yesterday land surface temperatures reached over 50°C in Sicily, and Spain saw land surface temperatures reach 60°C. [2][3]
Just Stop Oil supporters have completed up to seven marches a day, six days a week since the 24th April. Over 800 ordinary people from all over the UK have taken part. Including arrests at the Coronation and cultural and sporting events there have been around 238 arrests this year.
Since the Just Stop Oil campaign launched on 14th February 2022, there have been over 2,200 arrests and 138 people have spent time in prison, many without trial. Just Stop Oil supporters Morgan Trowland and Marcus Decker are serving three-year prison sentences for resisting new oil, gas and coal in the longest sentences for peaceful climate action in British history.
It's time to pick a side and join in civil resistance to end new oil, gas and coal. We are inviting everyone to come and march with us every day in London from the 16th-23rd July. Sign up for action at juststopoil.org.
ENDS
Press contact: 07762 987334
Press email: [email protected]
High quality images & video here:https://juststopoil.org/press-media
Website: https://juststopoil.org/
Facebook: https://www.facebook.com/JustStopOil/
Instagram: https://www.instagram.com/just.stopoil/
Twitter: https://twitter.com/JustStop_Oil
Youtube: https://juststopoil.org/youtube
Notes to Editors
[1] Just Stop Oil is a coalition of groups working together to demand that the government immediately halt all future licensing and consents for the exploration, development and production of fossil fuels in the UK. Just Stop Oil is a member of the A22 Network of civil resistance projects. Climate Emergency Fund is Just Stop Oil's primary funder for recruitment, training, and capacity building.
Just Stop Oil 'Blue Lights' policy: our policy is, and has always been, to move out of the way for emergency vehicles with siren sounding and 'blue lights' on.
[2] https://www.independent.co.uk/news/world/europe/heatwave-europe-cerberus-italy-spain-2023-b2374510.html
[3] https://www.esa.int/Applications/Observing_the_Earth/Copernicus/Sentinel-3/Europe_braces_for_sweltering_July