Just Stop Oil supporters are approaching the end of their twelfth week of marching at least six days a week, since the 24th April. They are demanding that the government halts all new licences and consents for oil, gas and coal projects in the UK. [1] 
At 8:30am, a single group of around 40 Just Stop Oil Supporters started marching on Marylebone Road, near Baker Street station, before they split into smaller groups. The marches elicited polarised reaction from motorists and passers by, with pedestrians offering words of support, whilst one driver was seen shoving people, snatching banners and smashing a phone at 9am. The main march on Marylebone road was issued a Public Order Act (Section 12) notice and was off the road by 9:05. Smaller 'mini-marches' continued on surrounding roads.
At 11:30 around 30 Just Stop Oil supporters entered John Lewis department store and held banners in the atrium of the store. Police arrived by 12:15 and the supporters left the shop by 12:50. The supporters then stood outside and gave speeches.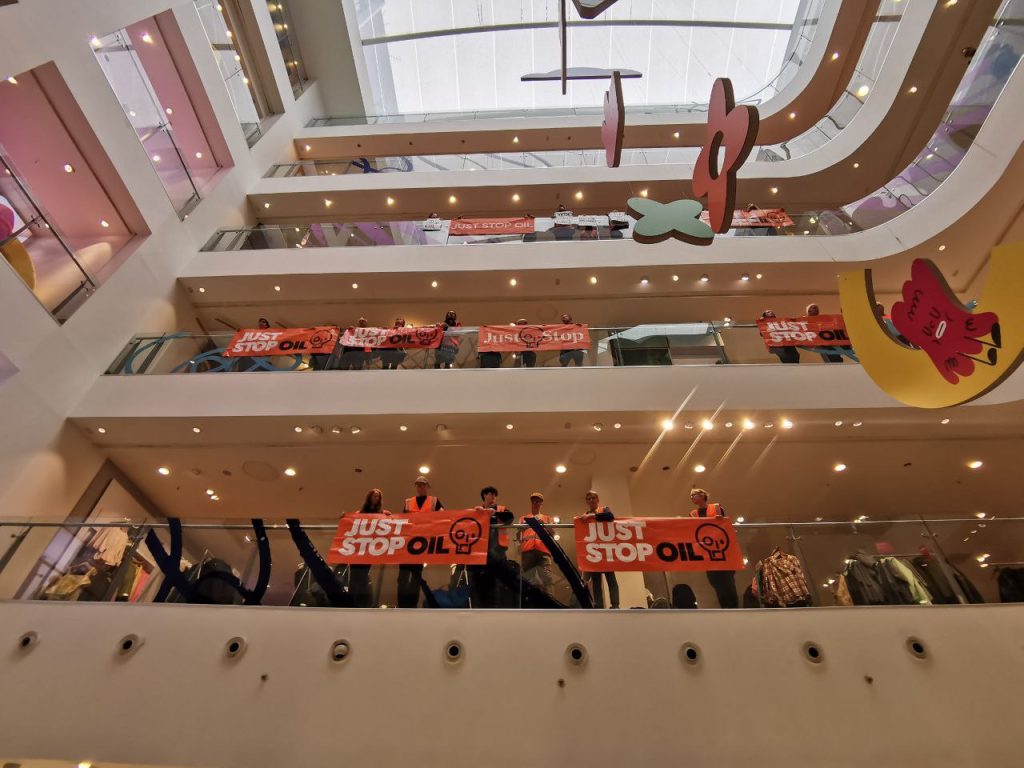 One of those marching today, Patrick Hart, 37, a GP from Bristol, said:
"I'm a doctor and I'm doing this for my patients. When it comes down to it, our health and the health of the ones we love is the most precious thing we have. The climate crisis is the single biggest health threat facing humanity. Every day that we delay action people are dying. I won't give up until we see the changes that we need to stop the harm being done to us."
Today's marches come as new research warns that The UK and Switzerland will see a 30% increase in the number of days of uncomfortably hot temperatures if the world heats by 2C. Researchers found that while central Africa will see the most extreme temperatures overall, it is mostly northern European countries that will experience the greatest relative increases in uncomfortably hot days. The people and infrastructure in these countries are not prepared for periods of hot weather, the study, based on climate modelling and data from the UK Met Office, predicts. The estimates by researchers at the University of Oxford are conservative, and do not include external factors such as extreme heatwaves, which would come on top of this average increase. [2]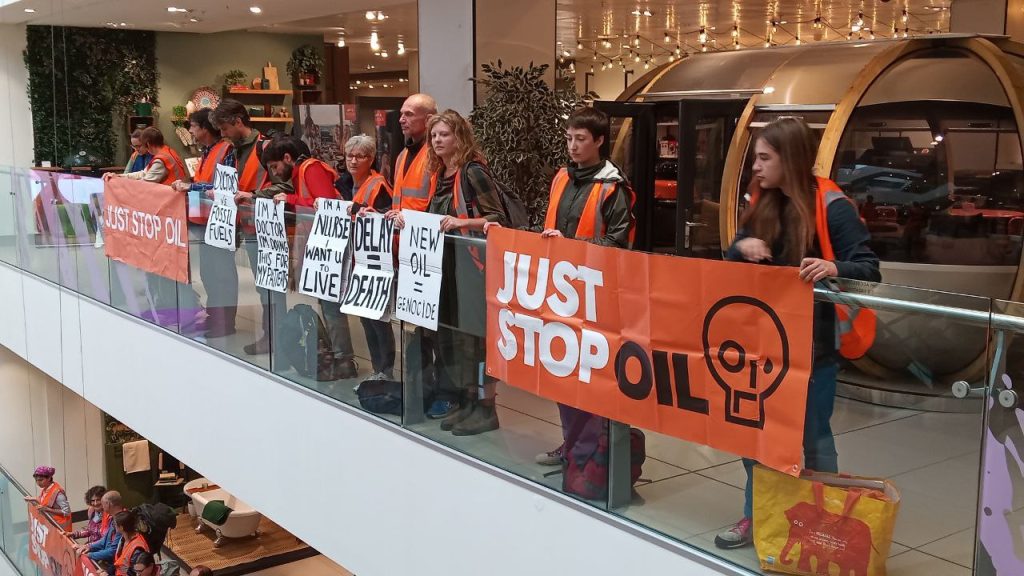 Chrissie Aslett , 62, a former NHS nurse of 32 years the said:
"I am marching because the climate crisis is causing many thousands of deaths from excessive heat. This is only getting worse as more are displaced due to extreme weather events and crop failure. A recent report published in the respected journal Nature Sustainability, warns that by 2030, one billion people could be forced to move as the areas they live in become uninhabitable. As a Nurse I cannot stand by and let that happen."
Just Stop Oil supporters have completed up to eight marches a day, six days a week since the 24th April. Over 800 ordinary people from all over the UK have taken part. Including arrests at the Coronation and cultural and sporting events there have been around 244 arrests this year.
Since the Just Stop Oil campaign launched on 14th February 2022, there have been over 2,200 arrests and 138 people have spent time in prison, many without trial. Just Stop Oil supporters Morgan Trowland and Marcus Decker are serving three-year prison sentences for resisting new oil, gas and coal in the longest sentences for peaceful climate action in British history.
It's time to pick a side and join in civil resistance to end new oil, gas and coal. We are inviting everyone to come and march with us every day in London from the 16th-23rd July. Sign up for action at juststopoil.org.
ENDS
Press contact: 07762 987334
Press email: [email protected]
High quality images & video here:https://juststopoil.org/press-media
Website: https://juststopoil.org/
Facebook: https://www.facebook.com/JustStopOil/
Instagram: https://www.instagram.com/just.stopoil/
Twitter: https://twitter.com/JustStop_Oil
Youtube: https://juststopoil.org/youtube
Notes to Editors
[1] Just Stop Oil is a coalition of groups working together to demand that the government immediately halt all future licensing and consents for the exploration, development and production of fossil fuels in the UK. Just Stop Oil is a member of the A22 Network of civil resistance projects. Climate Emergency Fund is Just Stop Oil's primary funder for recruitment, training, and capacity building.
Just Stop Oil 'Blue Lights' policy: our policy is, and has always been, to move out of the way for emergency vehicles with siren sounding and 'blue lights' on.
[2] https://www.theguardian.com/environment/2023/jul/13/uk-told-to-prepare-for-possible-30-increase-in-uncomfortably-hot-days?CMP=Share_iOSApp_Other