Hundreds are marching to demand that the UK government immediately halt all future licences and consents for fossil fuel exploration in the UK. [1]
At midday today, a group of around 800 people gathered in Jubilee Gardens, near the London Eye and Shell HQ. Supporters from Just Stop Oil, Extinction Rebellion, Christian Climate Action, Peace and Justice Project and Fossil Free London as well as a number of other groups joined the march.
Over 22 police vans were on the scene as people gathered. At around 12:35, after announcing that he was breaking court bail in a speech, Noah Crane (18) was dramatically arrested and carried away by police. The march set off at around 12:45pm via Blackfriars bridge and Waterloo bridge and is expected to finish in Jubilee Gardens at around 3pm.
One of those marching today is Pippa Cowtan, 21, a politics and international relations graduate from London, who said:
"The government cannot arrest its way out of the situation we are in, just like we cannot vote our way out. The time to get on the streets is now. The government is on a path towards genocide and we have to stop them. No one else is coming to save us, we have to step up."
"I am taking action because I cannot sit back and be complicit in the government's plans to let millions die, so they can further line their pockets. We have to come together to resist, because together we can be the opposition the country needs, and we can win."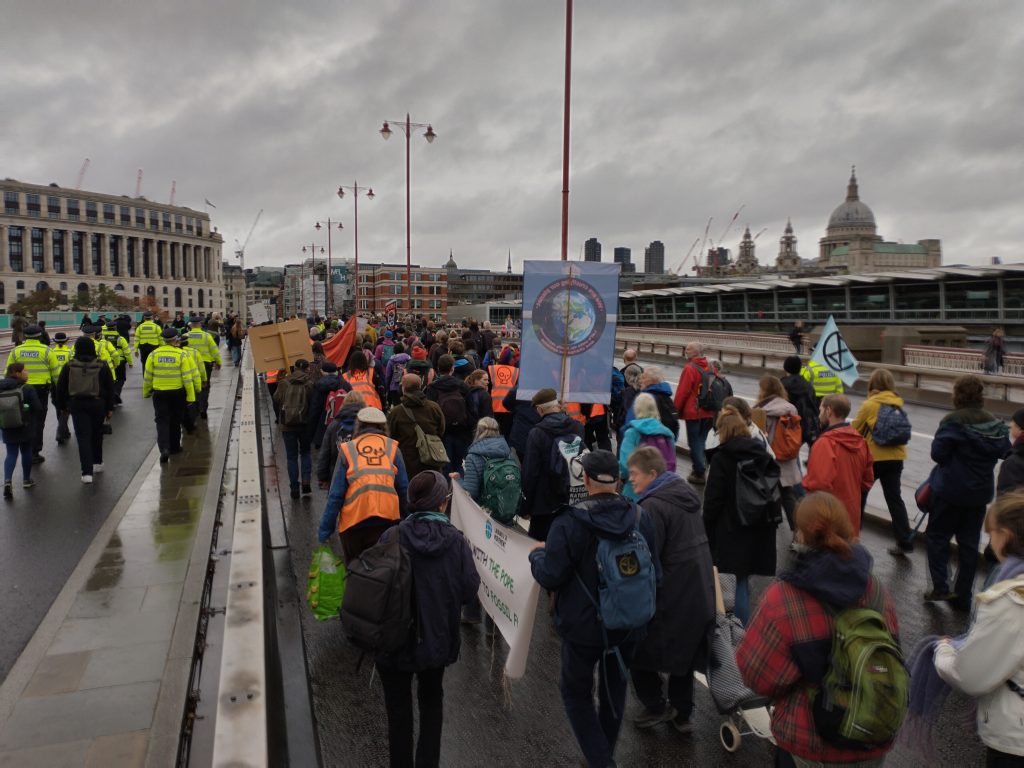 Another of those marching today is Ella Taylor, 19, from Southampton. She said:
"New oil and gas is murder. People in the global south are already being displaced or killed as a result of our government's wilful ignorance. The science is clear, there is no excuse for ignorance."
"The problem seems insurmountable and I understand inaction out of fear. I feel that fear too, but if we allow our government's genocidal policies to go unchallenged then we will face extinction on a global scale. There is no time left to waste when it's all our homes and all our lives on the line, and I will not go down without a fight."
Yesterday, Ella Ward (20) was remanded to HMP Bronzefield for marching in the street. They join Ruby Hamill (19), Chiara Sarti (24), Phoebe Plummer (22) and Sam Griffiths, (48) who have all been imprisoned, without trial, for peacefully marching in the road. There are currently seven Just Stop Oil supporters in prison including Morgan Trowland and Marcus Decker who have been sentenced to 3 years and 2 years 7 months respectively, in the longest sentences ever awarded for peaceful direct action. [2][3][4]
Continued expansion of new oil and gas will bring about the wholesale destruction of ordered society and an end to the rule of law. We are not prepared to watch while the government continues to serve the interests of a few, to the detriment of everyone else. It's up to all of us to come together and resist. It is the will of the vast majority of people that we end new oil and gas and together we can make it happen.
From 20th November the people are marching against oil every day from Trafalgar Square at 12pm. Our government is waging war on its people, and we're fighting back. They're imprisoning peaceful protestors, protecting the real criminals, and licensing more than 100 new oil and gas projects while everything burns. We're coming together to demand an end to new oil and gas, and it's not a case of 'if' we will win; but 'when.'
ENDS
Press contact: 07762 987334
Press email: [email protected]
High quality images & video here:https://juststopoil.org/press-media
Website: https://juststopoil.org/
Facebook: https://www.facebook.com/JustStopOil/
Instagram: https://www.instagram.com/just.stopoil/
Twitter: https://twitter.com/JustStop_Oil
Youtube: https://juststopoil.org/youtube
Notes to Editors
[1] Just Stop Oil is a coalition of groups working together to demand that the government immediately halt all future licensing and consents for the exploration, development and production of fossil fuels in the UK. Just Stop Oil is a member of the A22 Network of civil resistance projects.
Just Stop Oil 'Blue Lights' policy: our policy is, and has always been, to move out of the way for emergency vehicles with siren sounding and 'blue lights' on.
[2] https://juststopoil.org/2023/11/16/we-wont-let-them-get-away-with-mass-murder-for-the-sake-of-greed/
[3] https://juststopoil.org/2023/11/16/how-many-people-will-die-before-you-stop-sending-people-like-me-to-prison/
[4] https://juststopoil.org/2023/04/21/bridge-climbers-get-3-years-in-longest-ever-sentence-for-peaceful-climate-action/