Just Stop Oil supporters are marching to demand that the UK government immediately halt all future licences and consents for fossil fuel exploration in the UK. [1]
At around 12:50pm today, a group of approximately 40 people began marching from Trafalgar Square in support of Just Stop Oil's demand. Police warned the supporters that they would be arrested under section 7 of the Public Order Act before they entered the road and then proceeded to arrest many of them within 2 minutes of the march commencing. Also present were various YouTubers who were filming satirical videos.
From today, Just Stop Oil has issued an open call to the public and to all concerned parties to march together in defiance of this criminal government. This has been inspired by demonstrations in the Netherlands, where repeated road disruptions and continued pressure on the police, has forced the Dutch parliament to vote to end fossil fuel subsidies. [2]
A Just Stop Oil Spokesperson said:
"In 2023, our choices to take action, or to not take action, have consequences. To not engage in civil resistance at this point in history is not a neutral act. Our government's flagrant disregard for the rule of law and the wellbeing of the people of this country must be opposed if we are to claim we have any morality. The government would rather imprison teenagers as young as 18, simply for marching – something people have done for centuries.
These are teenagers who are simply demanding that the government begin to take the necessary actions that would protect their generation. These are changes that the overwhelming majority of the people want to see, yet our politicians don't deliver them because they are in the pockets of the fossil fuel lobby. From today, this is why people are joining us to march every day at 12pm from Trafalgar Square. To everyone who understands the severity of this crisis; it is your time to step up. Join us."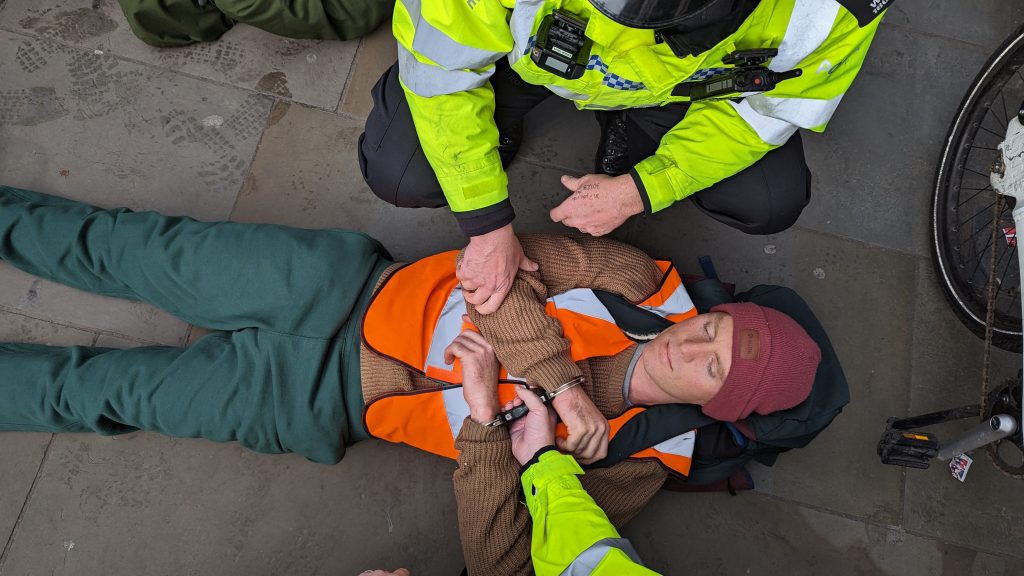 One of those marching today is Christopher Ford, 46, a nursery school teaching assistant and father of two sons, who said:
"The United Nations are saying: 'we are at a code red for humanity'. Our children's futures are in danger. How, as a parent, can I stand by and do nothing? The government is releasing over 100 new oil licences against the advice of the United Nations, the International Energy Agency and even their own advisors, the Climate Change Committee."
"This shows how they have a total disregard for the climate, our futures and the lives of our children. Only together can we stand against this, so join us every day from 12pm at Trafalgar Square."
Today, Cressie Gethin (21) appeared in court, produced from Bronzefield prison, where she has been held since Saturday, after being arrested for marching and refusing to comply in court. She has now been remanded until at least the 13th December. Noah Crane (18), who announced to a large audience that he was breaking court bail on Saturday, is also due to appear in court later today. He may join Cressie, along with Ella Ward (20), Ruby Hamill (19), Chiara Sarti (24), Phoebe Plummer (22) and Sam Griffiths (48), who have all been imprisoned, without trial, for peacefully marching in the road.
Roland Howes (19) a biology student, who marched twice with Just Stop Oil, was remanded to HMP Pentonville last week. On Friday, he should have been released on bail. Instead, he has been illegally held in prison due to 'paperwork issues'. He is hoping to be released today. There are currently ten Just Stop Oil supporters in prison, including Morgan Trowland and Marcus Decker, who have been sentenced to 3 years and 2 years 7 months respectively, in the longest sentences ever awarded for peaceful direct action. [3][4][5]
Continued expansion of new oil and gas will bring about the wholesale destruction of ordered society and an end to the rule of law. We are not prepared to watch while the government continues to serve the interests of a few, to the detriment of everyone else. It's up to all of us to come together and resist. It is the will of the vast majority of people that we end new oil and gas and together we can make it happen.
From 20th November the people are marching against oil every day from Trafalgar Square at 12pm. Our government is waging war on its people, and we're fighting back. They're imprisoning peaceful protestors, protecting the real criminals, and licensing more than 100 new oil and gas projects while everything burns. We're coming together to demand an end to new oil and gas, and it's not a case of 'if' we will win; but 'when'.
ENDS
Press contact: 07762 987334
Press email: [email protected]
High quality images & video here:https://juststopoil.org/press-media
Website: https://juststopoil.org/
Facebook: https://www.facebook.com/JustStopOil/
Instagram: https://www.instagram.com/just.stopoil/
Twitter: https://twitter.com/JustStop_Oil
Youtube: https://juststopoil.org/youtube
Notes to Editors
[1] Just Stop Oil is a coalition of groups working together to demand that the government immediately halt all future licensing and consents for the exploration, development and production of fossil fuels in the UK. Just Stop Oil is a member of the A22 Network of civil resistance projects.
Just Stop Oil 'Blue Lights' policy: our policy is, and has always been, to move out of the way for emergency vehicles with siren sounding and 'blue lights' on.
[2] https://extinctionrebellion.nl/a12-blockades-netherlands-effective-lower-house-asks-cabinet-for-phase-out-plan-for-fossil-fuel-subsidies/
[3] https://juststopoil.org/2023/11/16/we-wont-let-them-get-away-with-mass-murder-for-the-sake-of-greed/
[4] https://juststopoil.org/2023/11/16/how-many-people-will-die-before-you-stop-sending-people-like-me-to-prison/
[5] https://juststopoil.org/2023/04/21/bridge-climbers-get-3-years-in-longest-ever-sentence-for-peaceful-climate-action/