Sunday, 12th November
It's Remembrance Sunday in North London, a windswept afternoon with prickling bouts of rain. A group of 40 Just Stop Oil supporters are gathering on the pavement. The pedestrian lights turn green and they step into the middle of the road, donning the orange high-vis tabards which had been stuffed into backpacks and the pockets of cagoules. They begin marching down the road as car horns start to blare. Cressida Gethin is one of their number – or Cressie, to her friends.
Cressie is 21 years old. She's a music student. And after 30 minutes walking in the road, she's cuffed by a Metropolitan Police officer. She's allegedly breaching Section 7 of the Public Order Act 2023 – a new raft of draconian anti-protest legislation that Amnesty International calls "draconian", and the Economist says "goes too far". [1] [2]
At the moment of her arrest Cressie begins peaceful noncompliance. She's slight in figure but this technique means that it takes a team of officers to drag her into the back of a police van. Back at the police station, she continues in resistance; remaining 'floppy', officers manhandle her in and out of a cell, manipulating her limbs to extract fingerprints.
Monday, 13th November
Cressie was held overnight in the cells, and in the morning she's transported to Westminster Magistrates Court to be presented to Deputy District Judge Brown. The white poppy she'd worn yesterday is slightly creased now. But she refuses to leave the court's holding cell to attend the hearing, where they're expecting to hear her plea – guilty or not guilty. They'll be waiting a while yet, as Cressie is remanded to prison. She's sent to HMP Bronzefield, a category-A facility in Surrey. It's the largest female prison in Europe, and the only private one in the UK.
Brave acts of nonviolent resistance like Cressie's are creating ripples that the courts aren't able to ignore. Cressie and others who have stepped up into non-compliance are showing determined defiance of a system complicit in genocide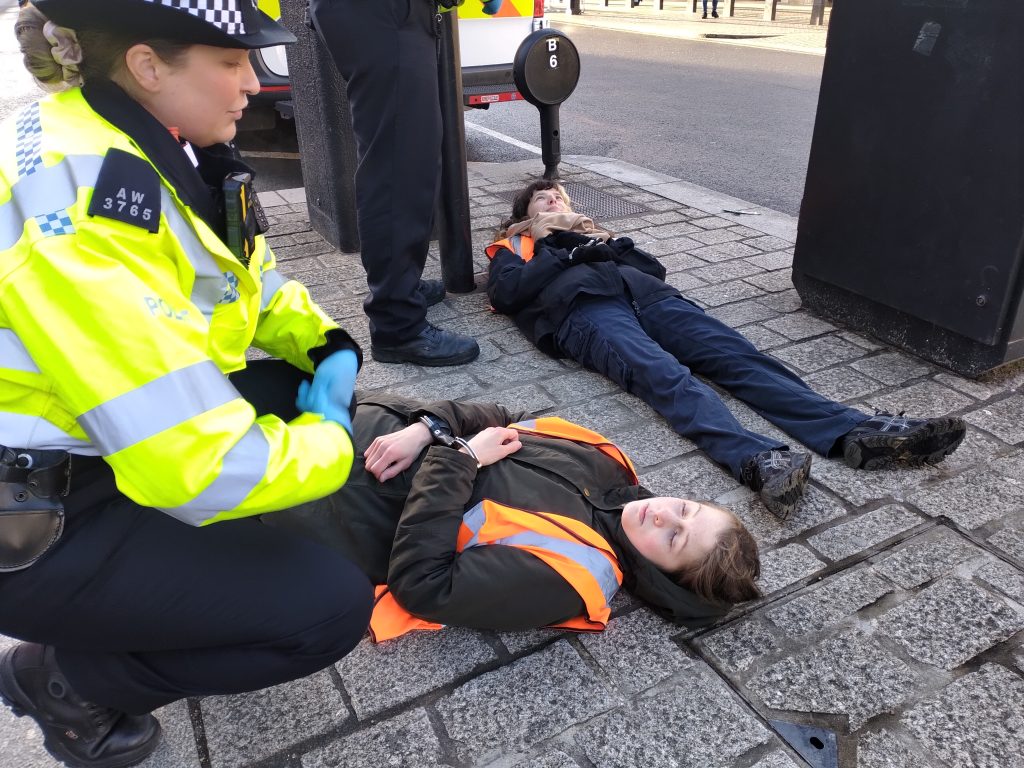 Tuesday, 14th November
The authorities take Cressie to court once again, She remains in non-compliance, telling Judge Snow: "I do not wish to comply with the court's questions, it should be real criminals held to account here not me" and sits down on the floor in the dock when he asks her about bail. She is released on bail, with conditions to not enter within the M25 .
She's collected from Westminster Magistrates court by friends and supporters, and taken home.
Friday 17th November
An early start today – by 9am Cressie is on the road in Whitehall, central London. Marching from Trafalgar Square to Parliament Square, a group of students are taking a nonviolent stand against the Government's genocidal climate policies. They don't even make it so far as Downing Street, before a group of 50 police officers converge on their march and begin making arrests.
Once again, Cressie refuses to comply – she is dragged from the road and left lying on the pavement in the pale morning sun while officers rush around detaining every single protester.
Saturday 18th November
Cressie is hauled in front of Judge Brown at Westminster Magistrates Court for the morning session. Their conversation goes like this:
Judge Brown: What is your name?
Cressie: All I can tell you is the truth: which is that the government continues to license new oil and gas which is killing millions of people.
Judge Brown: Are you going to identify yourself?
Cressie: All I can say is that the government is continuing to license new oil and gas which is killing millions of people.
Judge Brown: If you won't cooperate we will have to proceed in your absence.
Cressie: The court can do what it likes with me. I will continue in resistance. I act with compassion. I will continue regardless, regardless of what the court does to me.
Judge Brown: Are you going to cooperate with the proceedings? If not we will proceed in your absence and you will be taken downstairs.
Cressie: I am in resistance, and I will not comply with the court.
Crown Prosecution Service: I will be opposing bail, so it is your interest to cooperate with proceedings.
Judge Brown: Are you going to cooperate?
Cressie: I will not comply with the court.
At this point, Cressie sits down in the dock.
Judge Brown: Take the lady downstairs
Security staff move to remove Cressie, but she refuses to comply by simply letting all of her limbs go loose. Judge Brown clears the court – Court 8 – so that the hearing can resume without Cressie in Court 7.
Judge Brown: Where is she now?
Crown Prosecution Service: She is still in the dock, she has been given time to reflect but still refuses to cooperate
Judge Brown: The problem with this case is that Miss Gethin declined to cooperate. Anyway, she was disruptive, she spoke over me, and she still remains in the dock in court 8. She has voluntarily absented herself from these proceedings. We will continue as much as we can in her absence, but no progress can be made. No plea, no bail without cooperation, no case management.
Judge Brown: I will remand Cressida Gethin, until Monday, when she will be produced, and I hope we can make progress, with case management, and a plea, and the question of bail can be considered.
Cressie is returned to HMP Bronzefield for the rest of the weekend.
Monday 20th November
Once again, Cressie is brought from Bronzefield prison to appear at Westminster Magistrates Court. Cressie is being charged with Willful Obstruction of the Highway. In front of a Judge for the third time in just a week, Cressie vows to continue in resistance.
Judge: Cressida Gethin, what do you plead?
Cressie: The real question that should be asked is of the real criminals who should be in the dock.
After some hours of deliberations, Cressie is able to deliver her closing remarks:
Cressie: I will say that I have the greatest respect for the people in this courtroom as human beings, but I have a moral duty to remain in resistance given the scale of this crisis. Whatever the court decides to do I will remain in resistance. If given bail I will march again. If I am remanded others will march in my place.
The judge remands her back to prison until the proposed date of her trial – 13th of December.
Click here to see Cressie's testimony of why she refuses to comply with a system of genocide.
From 20th November the people are marching against oil every day from Trafalgar Square at 12pm. Our government is waging war on its people, and we're fighting back. They're imprisoning peaceful protestors, protecting the real criminals, and licensing more than 100 new oil and gas projects while everything burns. We're coming together to demand an end to new oil and gas, and it's not a case of 'if' we will win; but 'when'.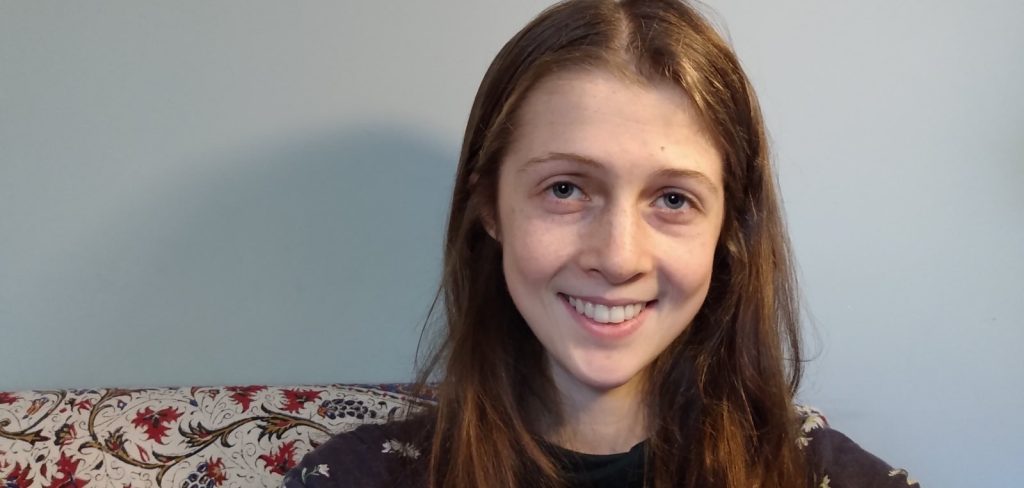 [1] https://www.amnesty.org.uk/press-releases/uk-deeply-draconian-public-order-bill-must-be-rejected-lords-new-briefing
[2] https://www.economist.com/britain/2023/05/18/britains-public-order-act-goes-too-far